Imagine coming home from a long day at work, getting a pair of pajamas and heading up to the tub to soak away the stress in a nice steamy bath. You turn on the water, but there's a strange gurgling noise. Your water supply isn't working like it's supposed to, because you have a major plumbing issue to take care of. This is extremely frustrating and the worst part is not knowing what's causing the problem.
At Valley Plumbing and Drain Cleaning, we can help identify plumbing issues like the one above, and get your home in Bountiful running like new again. We clean drains, replace hot water heaters, handle regular maintenance and repairs around your home, and we do it all during the hours that you need us to.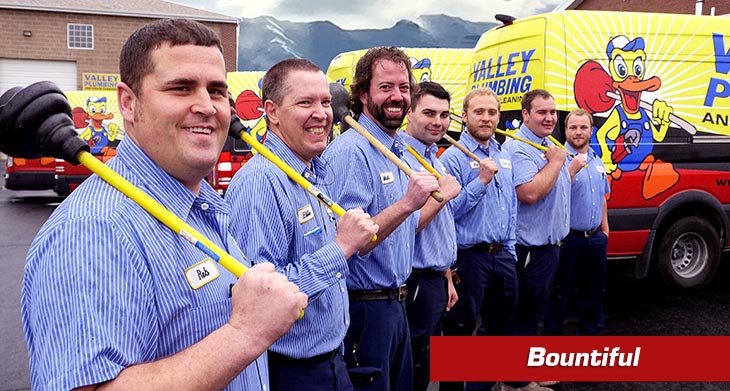 We put our customers first. Don't just take our word for it - visit our reviews page to learn more.
Tips for Preventing Plumbing Emergencies
Plumbing problems always seem simpler than they really are, and what starts off as a basic DIY project can result in a major dilemma that stops your home completely. Plumbing emergencies are dangerous because they can damage your home beyond repair. The easiest way to prevent these issues is with regular plumbing maintenance.
A service as simple as drain cleaning can help protect your pipes from bursting. At Valley Plumbing and Drain Cleaning, we take the time to inspect your plumbing for easy fixes that can improve the overall health. And if those emergencies do happen in your home, you can trust that we'll arrive to help 24/7.
Signs Your Water Heater Needs Repairs
There are few appliances in your home that work as hard as your hot water heater. Every day it's heating up gallons of water and over time it's wearing out. Not only does the heater have a tank that can fail, but it's equipped with fittings and seals with a limited lifespan as well. Common signs of water heater repairs include:
Water leaks
Fluctuating water temperatures
High energy costs
Rusty water or fittings
Noisy operation
Foul smelling water
We offer expert water heater repair services to keep your system running properly. Also, we help many homeowners in the Bountiful area with their upgrade needs, installing new systems including tankless water heaters.
While most of our calls stem from a need for repairs, one great way to protect your home is with regular maintenance. Good maintenance practices will make your system last longer and will help you get the most value from your hot water tank - and we offer convenient programs that can be scheduled in advance!
Do You Have a Serious Drain Clog?
Is there a gurgling noise coming from your drains? Maybe water just isn't going down the drains like it used to. Either way, there are many signs of a clogged drain you should be aware of. If your drains stop acting like they used to, you're going to need drain cleaning help. While some homeowners may opt for store-bought cleaners, these chemicals can further damage your pipes without affecting the clog in any way.
Want to know why we're so passionate about delivering great service? Visit our About Us page to learn more!
At Valley Plumbing and Drain Cleaning, we are your plumbing pros. Not only will we find the location of the blockage with pinpoint accuracy - but also we'll offer you long-lasting solutions like hydrojetting. Our goal is to help you with all your plumbing needs, big or small, so be sure to choose our pros for your next service call.
Local Reviews
for Bountiful, UT
Valley Plumbing and Drain Cleaning
Rated
4.7
out of 5 stars based on
15
customer reviews
Powered by Nearby Now
---
Great service
Emily

-

Bountiful

,

UT



Review of Valley Plumbing and Drain Cleaning
I have worked with Valley Plumbing for several years. Their service is great and consistent. They are honest hardworking and kind. They are professional and transparent with pricing and needs vs wants. Happy to be a repeat customer.
---
two great guys!
Kurt

-

Bountiful

,

UT



Review of Valley Plumbing and Drain Cleaning
Cool beans!!! Thanks for the complimentary flush. Man oh man I needed a plumbing job like you wouldnt believe. They made a very bad situation tolerable. Ive not had very much luck with plumbers in the past and Ryan and Mcclaren got the job done. It was not a little job either. Thanks you guys. Kurt V.
---
Shower valve rand drain replacement
Bob

-

Bountiful

,

UT



Review of Valley Plumbing and Drain Cleaning
Randy did a fine job for us. He has very good customer relation skills and works quietly and efficiently
---
Great job
DaLynn

-

Bountiful

,

UT



Review of Valley Plumbing and Drain Cleaning
Cleaned up after himself
---
Great service, excellant work and clean up
Pam

-

Bountiful

,

UT



Review of Valley Plumbing and Drain Cleaning
---
Response from Valley Plumbing and Drain Cleaning:

Thank you for the wonderful review Pam! We appreciate your feedback. We look forward to helping you with any of your future plumbing needs! All the best, Valley Plumbing
---
Dean R.
Replaced the old copper pipe from the 3/4 inch copper line that comes up the wall, over to the shut off valves and put in 3/4 inch ball valves and put in tee to tie in the 1/2 in lines for the tub and toilet and sink. Turned on the main water line to test for leaks, everything is working great.
Near
N 500 W,

Bountiful

,

UT

84010
Jessie S.
We sent the customer an estimate to remove the old cast-iron and replace it with new ABS pipe. We will replace the whole cast-iron to ABS pipe on the ceiling in the OR room we will cut out piping and fittings and we will replace it with new ABS piping and fittings. We replaced the old leaking cast iron pipe/fittings that were causing the drip. It was leaking because the cast iron 90 elbow was cracked. We replaced some pipe, the 90, and a combo wye with brand new ABS pipe/fittings. Also made sure to mop the area under the leak before we left.
Near
S Renaissance Towne Dr,

Bountiful

,

UT

84010
Kevin D.
I ran my medium auger through the clean out and was able to clear the blockage. I ran water for 10 minutes while cleaning up with no issues. We do not warranty drain cleaning.
Near
E 1400 S,

Bountiful

,

UT

84010
Jessie S.
She didn't have time to do the QSC expectation so she said next time we go and do some work will do the QSC inspection at the same time.
Near
S 1300 E,

Bountiful

,

UT

84010
Alex K.
We will clean the drain of the basement bathroom shower and test for proper drainage when completed. Results: We pulled out a large clump of hair and the drain now drains well. It should also be noted that this drain does not have a trap installed. This is a potential safety issue as sewer gasses can seep into the house through this point. There is no easy solution to this other than removing the shower floor and installing a p-trap.
Near
E 1050 N,

Bountiful

,

UT

84010