Few things are as challenging as getting home after a long day only to find that your plumbing is on the fritz. Whether it's a slow drain, a clogged toilet, or a water leak around your water heater, you're going to want a plumbing repair - and fast. At Valley Plumbing and Drain Cleaning, we are your reliable Clinton plumbing professionals. We're available 24/7, offer competitive pricing, and always take the time to personalize your plumbing solutions to your home.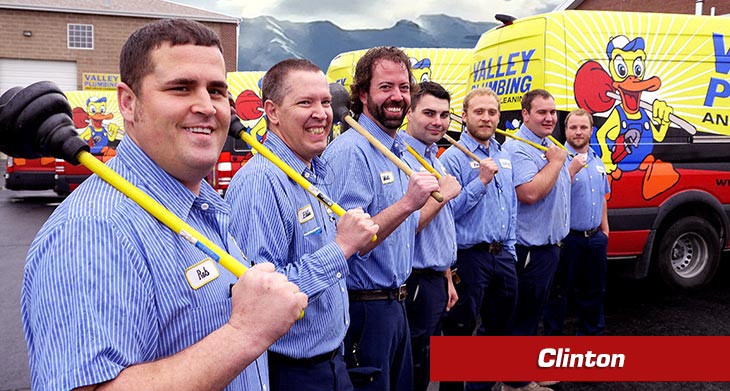 Want to know more from our happy customers? Be sure to visit our reviews page today, before your next service call.
How Can You Prevent Plumbing Emergencies?
A plumbing emergency is always a concern because of the amount of damage it can cause in your home. Burst pipes, for example, not only require pipe repair but also lead to water damage throughout your home. A ruptured gas line can put your family at risk and in some instances even cause a fire. So how do you protect yourself?
The easiest way to prevent plumbing emergencies is with regular care and maintenance. It's generally a good rule of thumb to check your monthly bills and utility costs. If you see any spikes in water, electricity, or natural gas, it could be a sign that something is amiss. Similarly, working with a professional plumbing contractor can help too.
At Valley Plumbing and Drain Cleaning, we offer extensive plumbing inspections and minor repairs, that can take care of those easy issues before they become major emergencies. Additionally, if disaster does strike, and you need professional care, we're here to help 24/7.
What Causes Clogged Drains?
When it comes to residential plumbing, one of the more common issues you can deal with is a clogged drain. While homeowners will sometimes try store-bought chemicals, this can worsen the issue or damage your plumbing. Instead, professional drain cleaning is always in order. But what if you could prevent the issue altogether?
Some of the more common causes for clogged drains include:
Excess hair and soap scum
Cooking grease
Flushing items like baby wipes and floss
Cat litter
Scale buildup
Monitoring what goes into your drains is an easy way to prevent clogs. However, if you do have a clogged drain, our plumbing experts can help. Using the latest tools and methods, we can clear out your plumbing and keep the water flowing easily!
When Should You Consider a Water Heater Replacement?
The water heater in your home is one of the most used appliances - whether you realize it or not. While you associated your hot water heater with your morning showers, it also supplies your dishwasher and washing machine too! While repairs are always the easiest way to get your home back in working order, an upgrade may be a better option.
If your water heater is over 10-years old, constantly in need of repairs, struggling to heat enough water for your family, or simply costing you more in energy - a water heater installation can help. At Valley Plumbing and Drain Cleaning, we offer top-rated water heater installation services and can help you with the entire process. From choosing your new unit to removing your old one, our plumbers have you covered.
As a family owned and operated business, we're dedicated to helping our customers. Whether that's regular repairs or some helpful tips on our blog, we are your partners in healthy plumbing systems.
Call Us Today!
No matter your plumbing issues, you can rely on Valley Plumbing and Drain Cleaning for all your Clinton needs. As a full-service plumbing company, we offer affordable rates, long-lasting repairs, and 24-hour emergency solutions. Whether you have a minor water leak or need a full-scale pipe repair, we have an expert plumbing contractor ready to help your home!