Few things are as challenging as getting home after a long day only to find that your plumbing is on the fritz. Whether it's a slow drain, a clogged toilet, or a water leak around your water heater, you're going to want a plumbing repair - and fast. At Valley Plumbing and Drain Cleaning, we are your reliable Clinton plumbing professionals. We're available 24/7, offer competitive pricing, and always take the time to personalize your plumbing solutions to your home.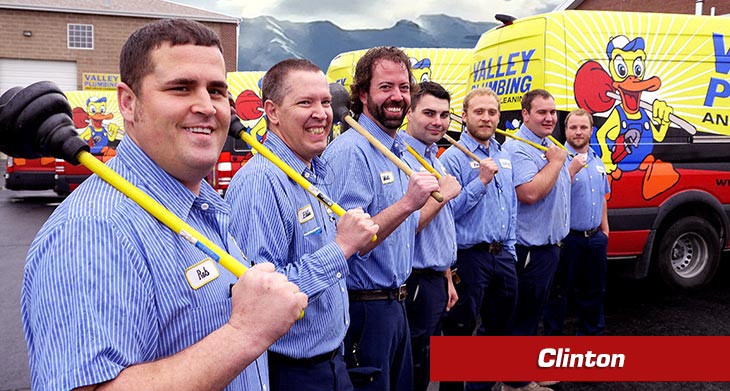 Want to know more from our happy customers? Be sure to visit our reviews page today, before your next service call.
How Can You Prevent Plumbing Emergencies?
A plumbing emergency is always a concern because of the amount of damage it can cause in your home. Burst pipes, for example, not only require pipe repair but also lead to water damage throughout your home. A ruptured gas line can put your family at risk and in some instances even cause a fire. So how do you protect yourself?
The easiest way to prevent plumbing emergencies is with regular care and maintenance. It's generally a good rule of thumb to check your monthly bills and utility costs. If you see any spikes in water, electricity, or natural gas, it could be a sign that something is amiss. Similarly, working with a professional plumbing contractor can help too.
At Valley Plumbing and Drain Cleaning, we offer extensive plumbing inspections and minor repairs, that can take care of those easy issues before they become major emergencies. Additionally, if disaster does strike, and you need professional care, we're here to help 24/7.
What Causes Clogged Drains?
When it comes to residential plumbing, one of the more common issues you can deal with is a clogged drain. While homeowners will sometimes try store-bought chemicals, this can worsen the issue or damage your plumbing. Instead, professional drain cleaning is always in order. But what if you could prevent the issue altogether?
Some of the more common causes for clogged drains include:
Excess hair and soap scum
Cooking grease
Flushing items like baby wipes and floss
Cat litter
Scale buildup
Monitoring what goes into your drains is an easy way to prevent clogs. However, if you do have a clogged drain, our plumbing experts can help. Using the latest tools and methods, we can clear out your plumbing and keep the water flowing easily!
When Should You Consider a Water Heater Replacement?
The water heater in your home is one of the most used appliances - whether you realize it or not. While you associated your hot water heater with your morning showers, it also supplies your dishwasher and washing machine too! While repairs are always the easiest way to get your home back in working order, an upgrade may be a better option.
If your water heater is over 10-years old, constantly in need of repairs, struggling to heat enough water for your family, or simply costing you more in energy - a water heater installation can help. At Valley Plumbing and Drain Cleaning, we offer top-rated water heater installation services and can help you with the entire process. From choosing your new unit to removing your old one, our plumbers have you covered.
As a family owned and operated business, we're dedicated to helping our customers. Whether that's regular repairs or some helpful tips on our blog, we are your partners in healthy plumbing systems.
Call Us Today!
No matter your plumbing issues, you can rely on Valley Plumbing and Drain Cleaning for all your Clinton needs. As a full-service plumbing company, we offer affordable rates, long-lasting repairs, and 24-hour emergency solutions. Whether you have a minor water leak or need a full-scale pipe repair, we have an expert plumbing contractor ready to help your home!
Local Reviews
for Clinton, UT
Powered by Nearby Now
---
Brian U.
Replaced section of copper underneath cook station. This required taking the backflow apart and adapting. This was a little more difficult because of this. Turned on water checked for leaking noticed no leaking. 90 day warranty on repairs recommend total repipe of cook station. This will have to be an after hours job as we would have to pull out the cook station.
Near
N 2000 W,

Clinton

,

UT

84015
Brian U.
B5439125 There is a hot and cold copper water line coming through the wall of a bedroom in the basement. The tenant is requesting that we cap the lines in the wall so they are not stubbing out in the way. In order to do this we will need to expose the lines by cutting the drywall. We will cap off the lines. Valley/Towers does not repair sheet rock. 64.70 in parts the rest in labor. ***successfully capped water and drain line in wall. towers is only responsible for the caps and none of the old piping. The drywall will have to be refinished Towers is not responsible for nor replaces drywall.
Near
W 2250 N,

Clinton

,

UT

84015
Brian U.
Shut off valve in ceiling froze and split. Replaced valve. Recommended more insulation and winterize hose bib during winter. Now warranty against freezing. Leaving an estimate for urinal they are having problems with.
Near
N 2000 W,

Clinton

,

UT

84015
Brian U.
This is to install a customer supplied water heater. Towers does not warranty customer supplied parts. Will install the new water heater modifying piping if necessary to fit the new water heater. We will connect to gas, venting, and water. We will fire it up and make sure it's working. Since the last job didn't work will credit that job towards this if the customer goes with us on installation. Membership is to save even more money on this job. Membership is 79 dollars but saves the customer 86.50. Membership is good for a year and does not automatically renew. Membership transfers with customer should they move within our service are. Benefits include 15% off plumbing services, priority dispatching, and reduced emergency rates.
Near
N 2850 W,

Clinton

,

UT

84015
Brian U.
Unfortunately the new thermopile didn't work. Next candidate would be the gas control valve. Recommending a new water heater.
Near
N 2850 W,

Clinton

,

UT

84015