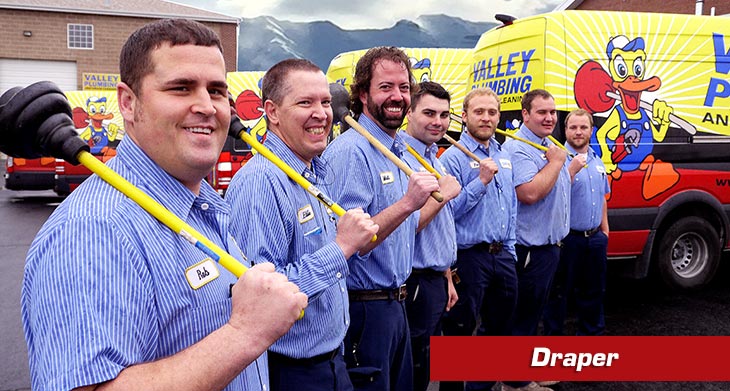 Plumbing problems are the last thing a homeowner wants to deal with. Fortunately, preventative maintenance can help keep complications at bay. Of course, there will be times when repairs are unavoidable and need to be addressed. At Valley Plumbing and Drain Cleaning, our professional plumbers will help to resolve any plumbing issues you're having in your home. Count on us for superior plumbing, water heater, and drain cleaning services in Draper, UT. We promise to leave you 100% satisfied with solutions that are guaranteed to last long term.
Save immediately on your next service when you access our online specials and coupons.
What Are the Advantages of Water Leak Detection Services?
Prevent flooding. Detecting a leak early on can prevent massive flooding and water damage issues later on. If a leak goes undetected, it can continue to flood out the area and soak through wood flooring, weakening the beams.
Prevent damage. Detecting a leak using expert services will prevent damage done after a flood caused by a burst pipe or slow leak. Replacing wood and beams get expensive, and leak detection prevents this from being an issue for you.
Avoid mold and mildew growth. When you have leak detection done in the home or office, you're also preventing mold growth. Mold has a tendency to grow in any area that is wet, slightly damp, and dark. A leaking pipe is an ideal place for mold to call home.
Save money. You will no doubt save money on water when you have leaks detected and repaired quickly. If you pay for your water by the gallon, you may notice a significant difference in your bills once a leak is repaired. Even if you run off of a well, you are still using a water pump to refill the pipe that has a leak every hour.
What Are the Signs You Need Professional Drain Cleaning?
One of the most obvious signs to look out for is sewage backup in the home itself. You might notice that when you use a sink, it backs up into the toilet or tub. Or when you flush the toilet,  you might notice that it seeps up into the bathtub. If you smell sewage or an odor coming up from the drains, this is also a sign that there could be a clog present. Gurgling noises coming from the drains could also signal an issue with the drain system itself. Having your drains professionally cleaned is a quick and simple way to remedy these problems.
Find out what other area residents are saying about our services by reading our latest reviews and feedback.
Does Your Water Heater Need Repairs or Replacement?
Without a functioning water heater, your home may be left without any warm water, or the water might be lukewarm at best. If you notice that there is no hot water coming from any of the taps in the home, it could be a problem with the water heater. You might notice that the water heater tank itself is cracked or leaking, signaling that it needs to be repaired or replaced by our experts.
Other signs and symptoms to be mindful of include:
Your unit is older than 10 years and needs frequent repairs.
The water is brown and has an odd odor.
Unit requires frequent repairs.
Apparent water leaks.
Local Reviews
for Draper, UT
Valley Plumbing and Drain Cleaning
Rated
4.7
out of 5 stars based on
53
customer reviews
Powered by Nearby Now
---
Raiden is the BEST!
Jodi

-

Draper

,

UT



Review of Valley Plumbing and Drain Cleaning
Raiden is friendly, knowledgeable, honest, and capable.
---
Very knowledgeable, took time to explain
Colleen

-

Draper

,

UT



Review of Valley Plumbing and Drain Cleaning
Tom was great! He took time to explain what he was doing and the options I had. He even changed a light bulb in a closet that had a pipe something or other.
---
Great help and service
Brian

-

Draper

,

UT



Review of Valley Plumbing and Drain Cleaning
---
Excellent fine timely service
Jerry

-

Draper

,

UT



Review of Valley Plumbing and Drain Cleaning
Trevor and his partner did a very timely service. They arrived at 9am as promised, presented a bid that I accepted and by 10:30am I had a brand new hot water heater. Excellent work!
---
Fast efficient service
Jerry

-

Draper

,

UT



Review of Valley Plumbing and Drain Cleaning
He was great
---
Donnie W.
Install and test bbq quick connect hose supplied through us.
Near
S Ptarmigan Gate Rd,

Draper

,

UT

84020
Neil A.
Noritz NRC, will need to be diagnosed and will most likely have parts to be replaced. Noritz said all the dip switches and computer settings were correct for altitude and venting. Cleaned the flame and ignition sensor. Tested water flow, turned off and on the unit multiple times and each time it came on and got up to 130.
Near
Fairmont Hill Dr S,

Draper

,

UT

84020
Donnie W.
We will attempt to clear the blockage without pulling the urinal, the urinal might have to be pulled if we are unable to clear the blockage. We were able to clear the black age and add in a heavy duty urinal cleaner to breakdown build up. Line has been flushed and is working correctly. We also rebuilt the urinal flush valve to install a correct 1.0 gallon per flush diaphragm to ensure enough water is flushed to prevent build up in the future. Due to the heavy use we recommended a treatment every 6 months.
Near
Lone Peak Pkwy,

Draper

,

UT

84020
Alex K.
We opened the ceiling in the basement, under the kitchen sink, to expose the leak coming from the ice maker tubing. There was a crack in the tubing that was causing a leak into the wall. We cut out about three feet of tubing and replaced this section with 1/4" pex tubing, adapting to the existing tubing accordingly. We repressurized the line and checked for leaks. It's now working well with no leaks. We are not responsible for repair to the ceiling.
Near
Cypress Point Way,

Draper

,

UT

84020
Raiden H.
Toilet fill valve in the upstairs main bathroom is not operating correctly and needs to be replaced. Install new fill valve and check for proper operation and leaks.
Near
Bridgecreek Way,

Draper

,

UT

84020