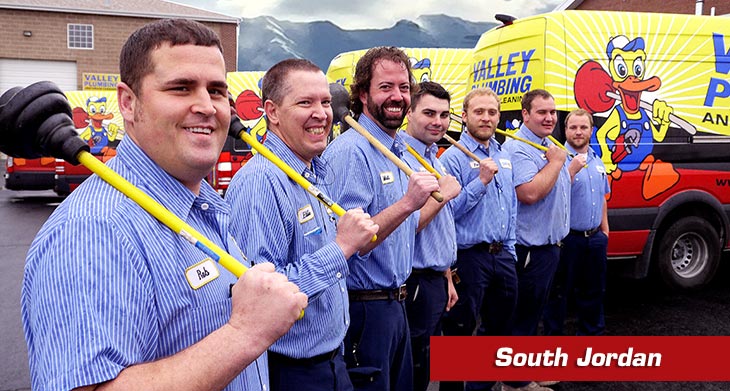 Even a minor plumbing issue that is not taken care of immediately can lead to an expensive hassle down the road. That is why at Valley Plumbing and Drain Cleaning, we're dedicated to providing unparalleled services that will keep the homes of our customers running smoothly throughout the years. From drain cleaning and leak detection to sewer line inspections and water heater repairs, we are ready to help. Count on us to deliver first-rate South Jordan plumbing, water heater, and drain cleaning services. We promise to provide you with long term solutions that leave you 100% satisfied.
Get instant access to our online discounts and coupons and save on your next home project.
Why Are Water Leak Detection Services Beneficial?
In the average household, leaks account for upwards of 10,000 gallons of water lost every single year. Put an end to this waste with water leak detection services. Whether it is poorly constructed faucets or old pipelines, a single leak can also lead to the development of mold and mildew that will affect air quality and put a family's health at risk. Leak detection services can prevent serious damage to the structure of the home, especially around the foundation and the walls. Finally, the chance for water contamination is reduced and residents can rest assured that the water used to wash dishes, clean clothes, and take showers is cleaner and healthier with water leak detection services.
Do You Need Professional Drain Cleaning Services?
The occasional slow drain may not be an issue, but everyone should know when it may be time to call on a professional. One of the most common issues is when clogs or slow drains are taking place every day or occasionally throughout the week. Families should also keep an eye out for multiple drains being clogged at the same time. Often this is a sign that there is a backup further down in the line that must be taken care of by a professional.
If any sinks, faucets, or fixtures throughout the home begin to smell of sewage or there is a sewage smell just outside the home, there could be a backup in the outgoing line that should be inspected immediately. These are all signs that a professional drain cleaning should be scheduled for your home's drainage system.
Read what your neighbors in South Jordan are saying about us in our customer reviews!
Signs You Should Repair or Replace Your Water Heater
The average water heater lasts around 10 to 15 years, but these units do undergo quite a bit of use and will need to be serviced, repaired, and replaced at some point. Yearly maintenance may help to prevent some damage, but owners should call a specialist if their unit stops producing hot water or the water is not getting as hot as they would like. Hearing continuous thumps or other noises could also be a sign that the water heater is need of new parts or must be replaced altogether. Any sudden changes to the appearance, taste, or smell of a home's water often comes down to issues with a faulty water heater.
Local Reviews
for South Jordan, UT
Valley Plumbing and Drain Cleaning
Rated
4.9
out of 5 stars based on
66
customer reviews
Powered by Nearby Now
---
Great service
Matthew

-

South Jordan

,

UT



Review of Valley Plumbing and Drain Cleaning
On time, actually early. Fixed the problem and didn't leave a mess. What more could you ask for.
---
Excellent, superb service
Julie Becker

-

South Jordan

,

UT



Review of Valley Plumbing and Drain Cleaning
Kyle was early, assessed the problem right away and fixed it, then we had another worry we had about an outdoor faucet and he repaired that too. He was nice, friendly, easy to talk to, and explained what he was doing. He was respectful and wore his mask the entire time and his shoe covers as well. We will definitely request him again!
---
Fantastic Crew!
Jessica

-

South Jordan

,

UT



Review of Valley Plumbing and Drain Cleaning
Very thorough, Arrived quickly and provided excellent customer service. Would definitely use again! Thank you
---
Super Fast Service
Steve

-

South Jordan

,

UT



Review of Valley Plumbing and Drain Cleaning
Neil was great. After he diagnosed the problem he gave us alternatives on how to fix the problem. Once we decided he had the issue resolved in a few hours which included him leaving to get the part.
---
Courteous and does good work
Richard

-

South Jordan

,

UT



Review of Valley Plumbing and Drain Cleaning
---
Michael P.
I will flush the tankless water heater for an hour. At the same time I will clean out the fan motor, burner chamber, flame rods, and gas valve.
Near
Country Ridge Dr,

South Jordan

,

UT

84095
Chandlyr T.
Their toilet would not flush very well. I removed the toilet and the closet flange is not in good shape. There was an old rubber seal that they had for their toilet. I removed that and put a wax ring in. They also had a rubber black thing stuck in their toilet right after the P-trap. I do not know what the rubber thing was. This cleared the toilet and it is able to flush now.
Near
Tee Box Dr,

South Jordan

,

UT

84095
latufakaosiula2300@gmail.com
I changed the washers on the tank, cause the washer that were on it before were bent, when I changed out the washers it stopped leaking customer was happy. Customer also asked me if there was a way to increase there water pressure, I asked the customer if he had a pressure reducing valve (PRV) he told me that he didn't know. We went downstairs to where the shut off was and he did have a PRV, so I told him that we will check the pressure first to see where it was. I took the water pressure and it was below 50 PSI so I told him that when the PRV is fully open his pressure will be at 65 PSI and he said that was fine, it mad e his wife very happy when she noticed that she had more water pressure customers were happy with the work That i have done for them.
Near
Alder Grove Way,

South Jordan

,

UT

84095
joshua.ashby@gmx.com
11/25- customer was having the kitchen line backing up. He tried removing the P-trap and cabling it with no success. We then tried using our cable and ran it down about 70 feet and pulled it back. I then reinstalled P-trap and ran a bunch of water with filling the sinks up three times with no back ups. NO WARRANTY.
Near
Plum Harvest Way,

South Jordan

,

UT

84095
Tom A.
Master Toilet is constantly running and non functional. We will turn the water off to the toilet and drain the tank. We will completely rebuild the inside of the Mansfield toilet by replacing the interior tank seal, fill valve, and toilet lever. We will also replace a second toilet lever in the downstairs powder bath. We tested everything for leaks when we were done. Everything works great. 90 day warranty on parts and labor. Water Pressure was very low so we adjusted it to a higher pressure.
Near
Wynview Ln,

South Jordan

,

UT

84095