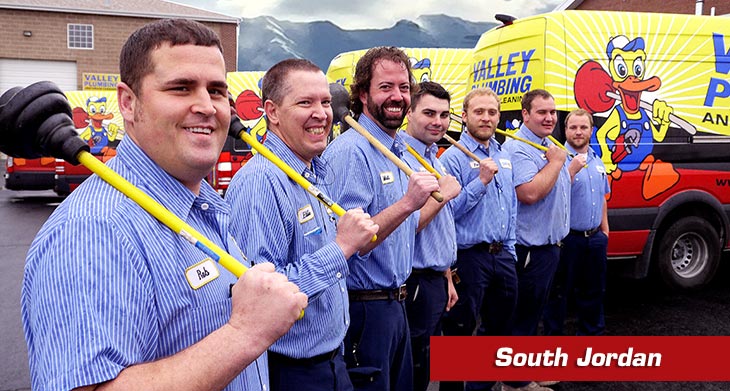 Even a minor plumbing issue that is not taken care of immediately can lead to an expensive hassle down the road. That is why at Valley Plumbing and Drain Cleaning, we're dedicated to providing unparalleled services that will keep the homes of our customers running smoothly throughout the years. From drain cleaning and leak detection to sewer line inspections and water heater repairs, we are ready to help. Count on us to deliver first-rate South Jordan plumbing, water heater, and drain cleaning services. We promise to provide you with long term solutions that leave you 100% satisfied.
Get instant access to our online discounts and coupons and save on your next home project.
Why Are Water Leak Detection Services Beneficial?
In the average household, leaks account for upwards of 10,000 gallons of water lost every single year. Put an end to this waste with water leak detection services. Whether it is poorly constructed faucets or old pipelines, a single leak can also lead to the development of mold and mildew that will affect air quality and put a family's health at risk. Leak detection services can prevent serious damage to the structure of the home, especially around the foundation and the walls. Finally, the chance for water contamination is reduced and residents can rest assured that the water used to wash dishes, clean clothes, and take showers is cleaner and healthier with water leak detection services.
Do You Need Professional Drain Cleaning Services?
The occasional slow drain may not be an issue, but everyone should know when it may be time to call on a professional. One of the most common issues is when clogs or slow drains are taking place every day or occasionally throughout the week. Families should also keep an eye out for multiple drains being clogged at the same time. Often this is a sign that there is a backup further down in the line that must be taken care of by a professional.
If any sinks, faucets, or fixtures throughout the home begin to smell of sewage or there is a sewage smell just outside the home, there could be a backup in the outgoing line that should be inspected immediately. These are all signs that a professional drain cleaning should be scheduled for your home's drainage system.
Read what your neighbors in South Jordan are saying about us in our customer reviews!
Signs You Should Repair or Replace Your Water Heater
The average water heater lasts around 10 to 15 years, but these units do undergo quite a bit of use and will need to be serviced, repaired, and replaced at some point. Yearly maintenance may help to prevent some damage, but owners should call a specialist if their unit stops producing hot water or the water is not getting as hot as they would like. Hearing continuous thumps or other noises could also be a sign that the water heater is need of new parts or must be replaced altogether. Any sudden changes to the appearance, taste, or smell of a home's water often comes down to issues with a faulty water heater.
Local Reviews
for South Jordan, UT
Rated
4.9
out of 5 stars based on
23
customer reviews
Powered by Nearby Now
---
Great service!! Super knowledgeable and friendly!
Tom

-

South Jordan

,

UT



Mike was very professional and did an awesome job on my hot water heater!
---
Response from Valley Plumbing and Drain Cleaning:

Hi Tom! Thank you for taking the time to leave us a review! We are glad to hear Mike was a big help with your hot water heater. We are here for you whenever you need us! All the best, Valley Plumbing
---
Excellent service, they went the extra mile. My contractor didn't set my sink, they secured and caulked, no extra charge
Mike

-

South Jordan

,

UT



Good price and no charge to leave and go buy the caulking. They spent the extra time at no charge to review and adjust my water pressure valve.
---
Response from Valley Plumbing and Drain Cleaning:

Thanks for the great review Mike! We are glad to hear our team was able to help. Call us anytime! All the best, Valley Plumbing
---
Outdoor hose bib repair kit
Bob

-

South Jordan

,

UT



On time. Knowledgeable. Thought you were a little pricey for the work done.
---
Response from Valley Plumbing and Drain Cleaning:

Hi Bob, We are thrilled to hear you were satisfied with your service from our team. We do our best to keep prices fair for both our customers and our technicians. Please feel free to call us if you would like to discuss further. We are happy to help our customers! All the best, Valley Plumbing
---
Great service
Owen

-

South Jordan

,

UT



Came quickly and did a thorough job.
---
Response from Valley Plumbing and Drain Cleaning:

Thank you for the positive feedback Owen! We look forward to helping you with your future home maintenance needs. Best Regards, Valley Plumbing
---
Fast Service
Steve

-

South Jordan

,

UT



Had a leak on my hot water heater and called last minute to get it fixed. They had a tech at my house in a few hours and had it repaired quickly. Very reasonable pricing.
---
Eddie D.
Upstairs tub/shower valve wont shut off in the kids bathroom on the south west of the house, removed the cartridge and installed new cartridge. Turned the water back on and test for leaks and proper function, working great. $50 Discount is for; customer already had the trim removed from the faucet.
Near
Bull Run Dr,

South Jordan

,

UT

84009
Jon .
Replacement of tub stopper and pee trap one hole in Sheetrock customer repair After cutting Sheetrock and exposing pipe work i found the foot drain had been melted and modified in ways that have caused leaking to occure causing damage to the boards surrounding tub also found the tee fitting for drain was not glued or secured in any way and was floating over pipe in concrete i need to remove more Sheetrock and chip out concrete to attach drain pipes properly to floor and tub also found construction adhesive in drain pipe in attempts to seal from leaks unsuccessfully and causing backing in tub with slow moving drain water drain trim kit will also need to be replaced
Near
Fish Hook Rd,

South Jordan

,

UT

84095
Travis W.
Found cartridge on kitchen faucet was loose. Tightened cartridge nut. If they have anymore problems they are going to get new faucet from Moen.
Near
Honey Crisp Way,

South Jordan

,

UT

84095
Trevor M.
Installed new faucet in cleaning area. Also installed a cover for the hole to the hand held sprayer.
Near
S Jordan Pkwy,

South Jordan

,

UT

84095
Jon .
Replace gator flapper second floor main bath Removed old and installed new gator flapper in toilet on second floor main bath tested new and found to be working properly customer is selling property and doing minor repairs at this moment collected payment in full by credit card no problems to report
Near
W Daybreak Pkwy,

South Jordan

,

UT

84095