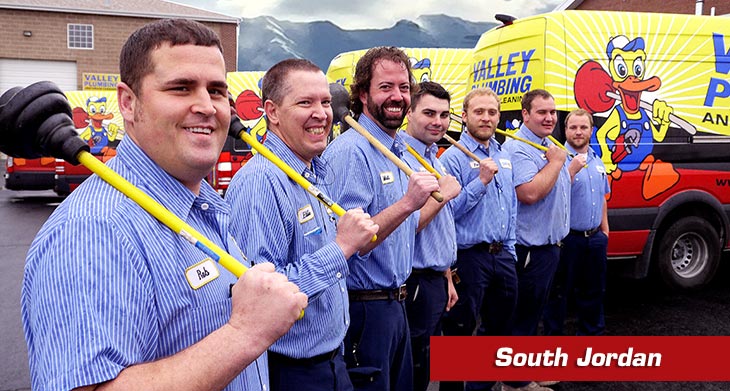 Even a minor plumbing issue that is not taken care of immediately can lead to an expensive hassle down the road. That is why at Valley Plumbing and Drain Cleaning, we're dedicated to providing unparalleled services that will keep the homes of our customers running smoothly throughout the years. From drain cleaning and leak detection to sewer line inspections and water heater repairs, we are ready to help. Count on us to deliver first-rate South Jordan plumbing, water heater, and drain cleaning services. We promise to provide you with long term solutions that leave you 100% satisfied.
Get instant access to our online discounts and coupons and save on your next home project.
Why Are Water Leak Detection Services Beneficial?
In the average household, leaks account for upwards of 10,000 gallons of water lost every single year. Put an end to this waste with water leak detection services. Whether it is poorly constructed faucets or old pipelines, a single leak can also lead to the development of mold and mildew that will affect air quality and put a family's health at risk. Leak detection services can prevent serious damage to the structure of the home, especially around the foundation and the walls. Finally, the chance for water contamination is reduced and residents can rest assured that the water used to wash dishes, clean clothes, and take showers is cleaner and healthier with water leak detection services.
Do You Need Professional Drain Cleaning Services?
The occasional slow drain may not be an issue, but everyone should know when it may be time to call on a professional. One of the most common issues is when clogs or slow drains are taking place every day or occasionally throughout the week. Families should also keep an eye out for multiple drains being clogged at the same time. Often this is a sign that there is a backup further down in the line that must be taken care of by a professional.
If any sinks, faucets, or fixtures throughout the home begin to smell of sewage or there is a sewage smell just outside the home, there could be a backup in the outgoing line that should be inspected immediately. These are all signs that a professional drain cleaning should be scheduled for your home's drainage system.
Read what your neighbors in South Jordan are saying about us in our customer reviews!
Signs You Should Repair or Replace Your Water Heater
The average water heater lasts around 10 to 15 years, but these units do undergo quite a bit of use and will need to be serviced, repaired, and replaced at some point. Yearly maintenance may help to prevent some damage, but owners should call a specialist if their unit stops producing hot water or the water is not getting as hot as they would like. Hearing continuous thumps or other noises could also be a sign that the water heater is need of new parts or must be replaced altogether. Any sudden changes to the appearance, taste, or smell of a home's water often comes down to issues with a faulty water heater.
Local Reviews
for South Jordan, UT
Valley Plumbing and Drain Cleaning
Rated
5.0
out of 5 stars based on
97
customer reviews
Powered by Nearby Now
---
Wonderful Service
Minh

-

South Jordan

,

UT



Review of Valley Plumbing and Drain Cleaning
Zach and Brad were both friendly and professional. They not only helped with changing the Pressure reducing valve (PRV) but helped seal a leak in the basement. Definitely would ask them for help next time!
---
Excellent service
Gifford

-

South Jordan

,

UT



Review of Valley Plumbing and Drain Cleaning
Pleasant employee and efficient service
---
Tankless Water Heater Replacement
Donna

-

South Jordan

,

UT



Review of Valley Plumbing and Drain Cleaning
I highly recommend Valley Plumbing as a go-to company for your plumbing needs. Alex Kiro is a lifesaver! Alex started working in February to solve a 2020 problem. Alex worked directly with the manufacturer to replace the system, with Justin and Kyle our system is 100% better!!
---
Great service
Sergio

-

South Jordan

,

UT



Review of Valley Plumbing and Drain Cleaning
Good people homes and profetinal
---
Repair Tankless Install Halo
Donna

-

South Jordan

,

UT



Review of Valley Plumbing and Drain Cleaning
We have had problems with our Rinnai Tankless Water Heater since it was installed in 2020. We also had issues with our water softener. Valley Plumbing was recommended by Rinnai and they have be responsive from my first call. They discovered installation issues on both and provided solutions. Kevin Doyle did an awesome job, along with Alex and Bryan. Valley Plumbing has a responsive, professional, and extraordinary team!
---
Jeremy G.
Steph the homeowner brought me to his downstairs mechanical room and told me that he had this Rinnai installed yesterday and the same day it was throwing a code 12. After looking at the tankless units I did notice that the condensate line did not have a vent. I noticed that One of the programs settings is just off by one and I reset it The whole tankless unit appears to be working just fine. i've been testing it for approximately 20 minutes without a problem. I'd also alternate five minutes on in five minutes off during these 20 minutes. I did put a vent on the condensate line and instead of 190 I put 2, 45s. all this work tonight is no charge.
Near
Sweet Blossom Dr,

South Jordan

,

UT

84095
Raiden H.
Remove two existing water heaters and water softener in mechanical room. Installed Rinnai 199,000 BTU tankless water heater. Reconfigured water lines using pex to feed softener and water heater. Removed existing exhaust venting and ran a new PVC vent through ceiling out to the exterior of home. Ran 3/4 gas line to feed heater using CSST. Replaced garbage disposal with 1/2 HP on kitchen sink. Tested for leaks and proper operation. Water heater fired up and running well. Recommend flushing tankless annually to remove scale. Water pressure for home is set at 50 PSI.
Near
Sweet Blossom Dr,

South Jordan

,

UT

84095
Dean R.
Customers toilet on the outside of building was clogged with paper towels. Removed paper towels and augured out the toilet 3 times and flushed it 4 times to make sure blockage was clear. No warranty on drain cleaning
Near
S Jordan Gateway,

South Jordan

,

UT

84095
Dean R.
Checked all storm drains and pulled storm sewer cover to inspect the drainage. Everything looks great not a lot of debris in the boxes. A little bit of leaves but other than that everything looks great.
Near
River Heights Dr,

South Jordan

,

UT

84095
Justin W.
Upon arrival Chris showed us to his upstairs bathroom where he has been experiencing a sewer gas smell over the past 6 months or so. This smell only comes up when the shower in the bathroom runs. There is a jet-tub located on the adjacent side of the wall to the shower. Chris explained that this tub is hardly used at all. We explained that because it is hardly ever used, the p-trap connected to the tub can dry and when the shower drains an exchange of air pushes sewer gas out into the home. We also went over other options that may cause smell including mildew under the shower pan, or a plug/problem with the venting. We presented multiple different quotes. Chris will weigh the different options but today he will look into using an enzyme based drain maintenance product to try and subdue the problem.
Near
Wynview Ln,

South Jordan

,

UT

84095