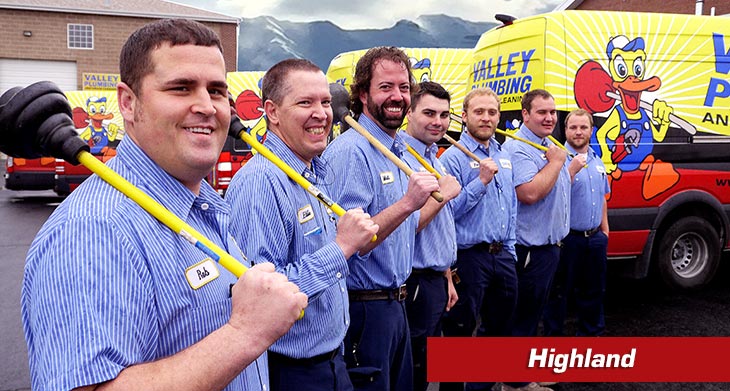 No one wants to struggle with the hassle of a plumbing problem. At Valley Plumbing and Drain Cleaning, we make repairs and replacements as easy as possible by offering competitive pricing, hiring only the most qualified employees, and never suggesting work you don't need. The next time you need a plumber, skip the headache and count on us. We strive to provide quality plumbing, water heater, and drain cleaning services to Highland, UT homeowners that are guaranteed to last long term. If you suspect trouble with your home's plumbing system, call us today. We will be glad to be of service.
Save even more with our online coupons and promos!
What Are the Advantages of Water Leak Detection Services?
Water leaks are sneaky and persistent, so homeowners may not always know that they have one. If you ever suspect a problem, call us right away for an inspection. By using our services you can:
Lower your water bills: One of the first signs of a leak is higher water bills. Stop wasting money and call us today!
Save your home from damage: Water, even when it's from a small leak, can be quite destructive. The constant dripping can damage cabinets, walls, and even your home's foundation.
Prevent mold growth: Mold growth is a serious problem and can make those living in your home very sick. Even a tiny leak is enough to create the conditions mold needs to thrive.
Save time by hiring a professional: Finding a small leak in your flooring or walls is impossible without the proper equipment. Our specialists use state of the art tools to find the leak quickly and efficiently.
Signs You Need Professional Drain Cleaning
Many homeowners don't realize that their drains, just like everything else in your home, need to be cleaned from time to time. By getting timely service, you can prevent larger and messier problems. If you experience one or more of the following symptoms, call us right away.
Recurring clogs & slow drains
Gurgling drains
Multiple clogged drains
Dirty water backing up
Odd, foul smell emitting from drains
Read what your other Highland homeowners are saying about us in our customer reviews!
Should You Repair or Replace Your Water Heater?
Water heaters generally give homeowners several warning signs that something is amiss. Look out for the following signs that indicate it is time for your unit to be repaired or replaced.
Brown or discolored water
Foul smelling water
Less hot water than you had previously
Water doesn't get as hot as it once did
Higher energy bills
Rust on the tank
Water leaks
The best way to maintain your unit is through early detection. If you have reason to suspect that your water heater needs repair, call us right away. You can also greatly extend the life of your water heater with a yearly service visit.
Local Reviews
for Highland, UT
Valley Plumbing and Drain Cleaning
Rated
4.9
out of 5 stars based on
18
customer reviews
Powered by Nearby Now
---
Great
David

-

Highland

,

UT



Review of Valley Plumbing and Drain Cleaning
Polite, fast, good. Also, good to put up with our busy home
---
Great service!
Ann

-

Highland

,

UT



Review of Valley Plumbing and Drain Cleaning
This is the 2nd time Neil has come to our house for plumbing stuff. He got us set up with new water heaters last year and came back this year to make sure everything was in working order. Neil is very knowledgeable, courteous, and professional. We are happy with the work Valley Plumbing does.
---
Home owner
Michael

-

Highland

,

UT



Review of Valley Plumbing and Drain Cleaning
---
Very knowledgeable, excellent service
Kirk in Highland

-

Highland

,

UT



Review of Valley Plumbing and Drain Cleaning
Several projects covered...replaced 22 shut-off valves and 8 faucets, along with a new dishwasher and RO system installation. Raiden was outstanding over the 3 days of work, my plumbing needs are covered for years to come. Also recommend the annual maintenance plan, as it offers a discount on work performed and quickly pays for itself.
---
Great servive
Doug

-

Highland

,

UT



Review of Valley Plumbing and Drain Cleaning
---
Trevor M.
Cleared sink blockage. Replaced two toilets with new KHOLER ada elongated toilets no issues to report.
Near
Aspen Hollow Cir,

Highland

,

UT

84003
Pedro U.
This estimate includes installing a customer supply filter system in the mechanical room we will install a filter system on the wall looping incoming water to run to the filter before the building
Near
Highland Blvd,

Highland

,

UT

84003
Chandlyr T.
We will run gas lines to the fire place, two BBQs and a pizza oven. We will run the gas fire place in black iron pipe and the bbqs and pizza oven in CSST. We have a one year warranty on our parts. We were able to run the gas lines over to the fire place, both BBQs and a pizza oven. For the fireplace we ran over 1/2 inch CSST over to where it penetrates through the brick and then ran it in hard iron pipe. We used mega press fittings to connect. We installed a regulator as well. We supported the CSST under the house the best we could. We then installed a 3/4 regulator for the BBQs and the pizza oven. We ran 3/4 CSST to a 3/4x1/2x3/4 T. From that T we used mega press fittings to run under the porch over to where the pizza oven will be on the back side of the wall. We used grey spray paint on that pipe. We then continued the 3/4 CSST up into where the two BBQs will be and installed a 3/4x1/2x1/2 T. We installed two shut offs for those. We will be back to test the gas to make sure there a
Near
Yorkshire Cir,

Highland

,

UT

84003
Neil A.
Master bath toilet. New wax ring
Near
Vista Dr,

Highland

,

UT

84003
Neil A.
Master toilet shut off and supply line. Front hose bib rebuild.
Near
Vista Dr,

Highland

,

UT

84003