In order to keep running properly, every home requires extensive plumbing on every floor. Sinks, bathtubs, showers, and toilets all rely on plumbing, and that's not even the entire list of appliances that require plumbing to do their jobs properly. That's why a repair problem is such a serious issue. One single obstacle with your plumbing can cripple your home and change your lifestyle dramatically. At Valley Plumbing and Drain Cleaning, we know how serious plumbing issues are, and work with our customers in the Clearfield area to get their homes back in working order as quickly as possible.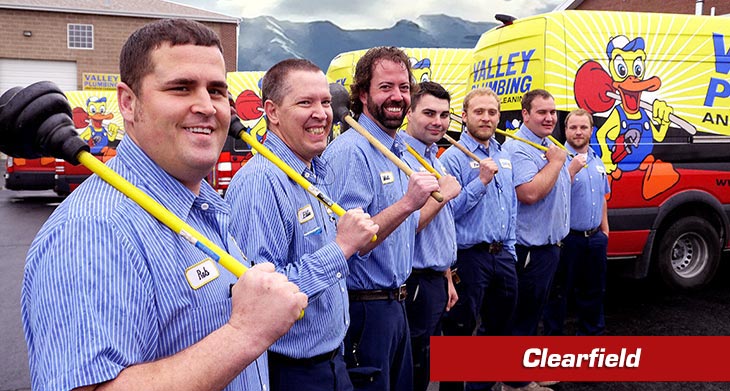 Don't just take our word for it. Visit our coupons page to see what our past customers have to say about our work.
How to Avoid Clogged Drains
Clogged drains are a serious pain and something you should do your best to avoid whenever possible. The first step is installing special catches in each of the drains in your home. These mesh screens catch hair, food, and other debris, and do a good job of protecting your plumbing. It's also important to never throw cooking grease down the drain, as it's one of the leading causes of clogs.
One thing homeowners should stray away from is pouring chemical cleaners down the drain. While they promise results, they can damage your plumbing, particularly if your home is older. If you're suffering from clogs, Valley Plumbing and Drain Cleaning can help. We offer expert drain cleaning solutions and even have heavy-duty solutions like hydrojetting.
Tips for Keeping Your Water Heater in Good Health
Most hot water heaters are built to last about 10-15 years, but most rarely reach those higher ages. Why? Because they don't get the repair and maintenance they need to continue working in top shape. Regular maintenance can:
Improve energy performance
Reduce the risk of emergency repairs
Add more water pressure to your home
Provide consistent water temperatures
If you've been struggling with an aging water heater for some time, you know how annoying it can be to run out of hot water in the middle of a shower. While repairs can take care of most of those issues, in some cases a replacement may be your best bet. Our Clearfield plumbers can help you find the right water heater for your home, even tankless water heaters, and get it installed quickly and efficiently.
We also offer financing for larger projects to help keep costs down and within your budget.
Reliable Help for Your Plumbing Emergency
If you've ever suffered a plumbing emergency in the past you know just how dangerous they can be. One slight plumbing issue can leak water throughout your home and cause significant damage. It's up to you to do whatever is necessary to clean up a plumbing problem as quickly as possible. Often that means calling a 24-hour plumber and for homeowners in Clearfield, we can help.
Valley Plumbing and Drain Cleaning is a reliable plumbing company with a working emergency plumber that you can call for help. You'll always get a live response no matter the time, day or night, and can have someone dispatched to your home quickly. Waiting till morning can cause irreparable damage in your home, so the next time you're dealing with an issue, trust the pros who care!
Local Reviews
for Clearfield, UT
Valley Plumbing and Drain Cleaning
Rated
5.0
out of 5 stars based on
6
customer reviews
Powered by Nearby Now
---
great service
Bruce

-

Clearfield

,

UT



Review of Valley Plumbing and Drain Cleaning
---
Eric
Sandy

-

Clearfield

,

UT



Review of Valley Plumbing and Drain Cleaning
What a nice man. He did a great job and was very professional!
---
On time, great customer service and price.
Chris

-

Clearfield

,

UT



Review of Valley Plumbing and Drain Cleaning
Mitch provided excellent customer service and had a great attitude. I'll be using him for all my plumbing needs.
---
Great
Victor

-

Clearfield

,

UT



Review of Valley Plumbing and Drain Cleaning
very good thanks for your help
---
Response from Valley Plumbing and Drain Cleaning:

Thank you for leaving a review.
---
plumbing probled
Edward

-

Clearfield

,

UT



Review of Valley Plumbing and Drain Cleaning
he fixed the problem
---
Response from Valley Plumbing and Drain Cleaning:

Thank you for your review. I hope you call us whenever you need a plumber.
---
hartjeremy0322@gmail.com
Total c to the customer
Near
S 1280 W,

Clearfield

,

UT

84015
Jeremy G.
When I first got here max the homeowner first to their downstairs bathroom installed and whenever they use the bathtub no water would drain. They also showed me their kitchen upstairs and it would not drain either they also showed in the upstairs shower and it was barely draining either. I then give them a quote for all three drains and he wanted me to do the work today. I first started with the kitchen drain and saw that there is a ton of sludge in the P-trap and the first 10 feet of pipe I then ran my auger out the rest of the way to make sure it was all running great. I then ran about 10 minutes of water down the drain and filled up both sinks halfway and it took all the water. I ran my Auger down the upstairs bathroom twice and then it fully drain the system and then ran water down water down it about another 8 to 10 minutes No water back up. I then went to the downstairs bathroom and ran my Auger all the way out twice out as well. Ran water down at for approximately 10 minutes to
Near
N 75 W,

Clearfield

,

UT

84015
Wilson .
Valley/Towers ran the small drain machine down the drain line for the washing machine drain. I ran the line out 25 feet, and then tested the washing Machine to verify that it was draining, this did not clear the clog. I then saw that there was a clean out at the base of the washing machine drain line stack. I then ran my small drain machine out 25 feet on that line, and then tested the washing machine again. This time the line was able to accept the amount of water that was being pushed by the washing machine. In my opinion this clog was caused by the washing machine drain line and the kitchen drain line sharing a common access point into the main sewer stack for the house. There is grease and lint combining at this common point. I would suggest that we attempt a repipe of the kitchen drain line, and have it connect directly into the sewer main, via hanging from the rafters, cutting access the laundry room, compared to the underground connections it currently has. This will help alle
Near
N 625 W,

Clearfield

,

UT

84015
Eddie D.
We will auger out the main sewer line from the clean out in the wall in the laundry room. We ran out up too 75 feet in length. We then ran the camera down the line too see where the issue is, 50-60 feet down the line there is a belly in the sewer line. We will NOT WARRANTY the drain cleaning due too the belly in the line.
Near
1025 W,

Clearfield

,

UT

84015
Bubby C.
We replaced back hose bib with new one.
Near
S 1175 E,

Clearfield

,

UT

84015