In order to keep running properly, every home requires extensive plumbing on every floor. Sinks, bathtubs, showers, and toilets all rely on plumbing, and that's not even the entire list of appliances that require plumbing to do their jobs properly. That's why a repair problem is such a serious issue. One single obstacle with your plumbing can cripple your home and change your lifestyle dramatically. At Valley Plumbing and Drain Cleaning, we know how serious plumbing issues are, and work with our customers in the Clearfield area to get their homes back in working order as quickly as possible.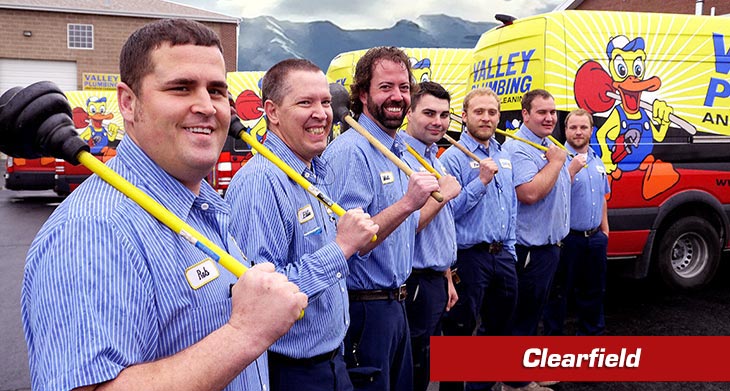 Don't just take our word for it. Visit our coupons page to see what our past customers have to say about our work.
How to Avoid Clogged Drains
Clogged drains are a serious pain and something you should do your best to avoid whenever possible. The first step is installing special catches in each of the drains in your home. These mesh screens catch hair, food, and other debris, and do a good job of protecting your plumbing. It's also important to never throw cooking grease down the drain, as it's one of the leading causes of clogs.
One thing homeowners should stray away from is pouring chemical cleaners down the drain. While they promise results, they can damage your plumbing, particularly if your home is older. If you're suffering from clogs, Valley Plumbing and Drain Cleaning can help. We offer expert drain cleaning solutions and even have heavy-duty solutions like hydrojetting.
Tips for Keeping Your Water Heater in Good Health
Most hot water heaters are built to last about 10-15 years, but most rarely reach those higher ages. Why? Because they don't get the repair and maintenance they need to continue working in top shape. Regular maintenance can:
Improve energy performance
Reduce the risk of emergency repairs
Add more water pressure to your home
Provide consistent water temperatures
If you've been struggling with an aging water heater for some time, you know how annoying it can be to run out of hot water in the middle of a shower. While repairs can take care of most of those issues, in some cases a replacement may be your best bet. Our Clearfield plumbers can help you find the right water heater for your home, even tankless water heaters, and get it installed quickly and efficiently.
We also offer financing for larger projects to help keep costs down and within your budget.
Reliable Help for Your Plumbing Emergency
If you've ever suffered a plumbing emergency in the past you know just how dangerous they can be. One slight plumbing issue can leak water throughout your home and cause significant damage. It's up to you to do whatever is necessary to clean up a plumbing problem as quickly as possible. Often that means calling a 24-hour plumber and for homeowners in Clearfield, we can help.
Valley Plumbing and Drain Cleaning is a reliable plumbing company with a working emergency plumber that you can call for help. You'll always get a live response no matter the time, day or night, and can have someone dispatched to your home quickly. Waiting till morning can cause irreparable damage in your home, so the next time you're dealing with an issue, trust the pros who care!
Local Reviews
for Clearfield, UT
Valley Plumbing and Drain Cleaning
Rated
5.0
out of 5 stars based on
7
customer reviews
---
review
Bruce

-

Clearfield

,

UT

84015



Review of
Valley Plumbing and Drain Cleaning
---
great service
Bruce

-

Clearfield

,

UT

84015



Review of
Valley Plumbing and Drain Cleaning
---
Eric
Sandy

-

Clearfield

,

UT

84015



Review of
Valley Plumbing and Drain Cleaning
What a nice man. He did a great job and was very professional!
---
On time, great customer service and price.
Chris

-

Clearfield

,

UT

84015



Review of
Valley Plumbing and Drain Cleaning
Mitch provided excellent customer service and had a great attitude. I'll be using him for all my plumbing needs.
---
Great
Victor

-

Clearfield

,

UT

84015



Review of
Valley Plumbing and Drain Cleaning
very good thanks for your help
---
Response from Valley Plumbing and Drain Cleaning:

Thank you for leaving a review.
---
Aaron S.
Customer has leaking water heater that is under warranty. We uninstalled leaking water heater so he can take it to Home Depot to get a replacement. We installed new water heater with new supply lines and gas flex line. We then filled water heater and lit it to ensure it was working properly. <br>
Near

432 West 275 North,

Clearfield

,

UT

84015
Eddie D.
We will break up concrete too find the drain lines underground and patch the concrete we remove with new concrete. This quote is for demo and put back too access the problem that made the sewer back up and fixing the problem is in a complete different quote.<br> <br> We broke up all the concrete above the main drain line and the branches too the kitchen and floor drain, the shower drain we ran up too the edge of the wall as far as we could too not remove the tile shower. We also tied into ABS pipe for the laundry as expected under ground. We replaced the cast iron pipes for the under ground pipes except 3 feet of shower drain in the basement. We tested all the drain too ensure the lines are working great. We back filled the trenches and patched the concrete we removed as best we could. Everything is working great and looking as good as we could make it.
Near

33 North Terrace Drive,

Clearfield

,

UT

84015
Rhett J.
Water drain line is clogged when she runs the washer it backs up into basement. 1 1/2 drain pipe size. Results: Ran medium machine through 1 1/2 clean out to clear clogged, also took smaller machine through the p trap of the washer machine to ensure nothing was clogged inn there. Ran water for about 3-5 mins to insure it was clear. It was. Recommended that she has her P trap re done. Wash machine hooked back up and running fine.
Near

N 625 W,

Clearfield

,

UT

84015
Justin W.
We will need to return with parts and equipment in order to make the repair. We will turn the water off to the home at the main shut off and drain the system. We will cut out the affected section of galvanized pipe under the home and repair it using either plastic pex piping or galvanized pipe and a press tool. We will turn the water back on to the home and we will test for leaks. There is a one year warranty on all work performed.
Near

N 1275 W,

Clearfield

,

UT

84015
Jordan S.
Attempt to clear the toilet with an Auger. Results: was able to clear the toilet and bring back the blockage with it. Also checked out a tub and pulled a bit of hair out of the drain and it works a bit better now..
Near

W 25 S,

Clearfield

,

UT

84015