In order to keep running properly, every home requires extensive plumbing on every floor. Sinks, bathtubs, showers, and toilets all rely on plumbing, and that's not even the entire list of appliances that require plumbing to do their jobs properly. That's why a repair problem is such a serious issue. One single obstacle with your plumbing can cripple your home and change your lifestyle dramatically. At Valley Plumbing and Drain Cleaning, we know how serious plumbing issues are, and work with our customers in the Clearfield area to get their homes back in working order as quickly as possible.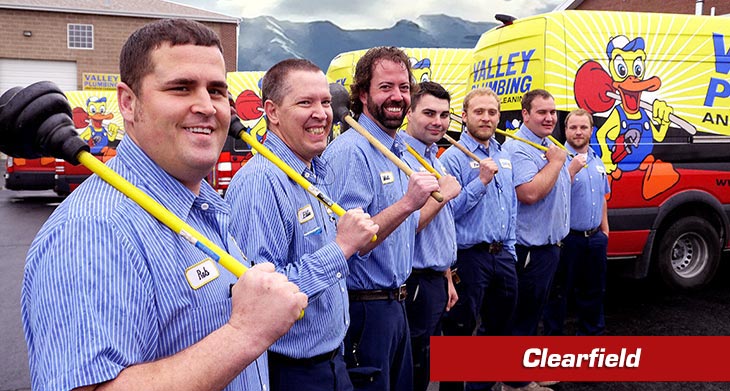 Don't just take our word for it. Visit our coupons page to see what our past customers have to say about our work.
How to Avoid Clogged Drains
Clogged drains are a serious pain and something you should do your best to avoid whenever possible. The first step is installing special catches in each of the drains in your home. These mesh screens catch hair, food, and other debris, and do a good job of protecting your plumbing. It's also important to never throw cooking grease down the drain, as it's one of the leading causes of clogs.
One thing homeowners should stray away from is pouring chemical cleaners down the drain. While they promise results, they can damage your plumbing, particularly if your home is older. If you're suffering from clogs, Valley Plumbing and Drain Cleaning can help. We offer expert drain cleaning solutions and even have heavy-duty solutions like hydrojetting.
Tips for Keeping Your Water Heater in Good Health
Most hot water heaters are built to last about 10-15 years, but most rarely reach those higher ages. Why? Because they don't get the repair and maintenance they need to continue working in top shape. Regular maintenance can:
Improve energy performance
Reduce the risk of emergency repairs
Add more water pressure to your home
Provide consistent water temperatures
If you've been struggling with an aging water heater for some time, you know how annoying it can be to run out of hot water in the middle of a shower. While repairs can take care of most of those issues, in some cases a replacement may be your best bet. Our Clearfield plumbers can help you find the right water heater for your home, even tankless water heaters, and get it installed quickly and efficiently.
We also offer financing for larger projects to help keep costs down and within your budget.
Reliable Help for Your Plumbing Emergency
If you've ever suffered a plumbing emergency in the past you know just how dangerous they can be. One slight plumbing issue can leak water throughout your home and cause significant damage. It's up to you to do whatever is necessary to clean up a plumbing problem as quickly as possible. Often that means calling a 24-hour plumber and for homeowners in Clearfield, we can help.
Valley Plumbing and Drain Cleaning is a reliable plumbing company with a working emergency plumber that you can call for help. You'll always get a live response no matter the time, day or night, and can have someone dispatched to your home quickly. Waiting till morning can cause irreparable damage in your home, so the next time you're dealing with an issue, trust the pros who care!
Local Reviews
for Clearfield, UT
Valley Plumbing and Drain Cleaning
Rated
5.0
out of 5 stars based on
3
customer reviews
Powered by Nearby Now
---
Great
Victor

-

Clearfield

,

UT



Review of Valley Plumbing and Drain Cleaning
very good thanks for your help
---
Response from Valley Plumbing and Drain Cleaning:

Thank you for leaving a review.
---
plumbing probled
Edward

-

Clearfield

,

UT



Review of Valley Plumbing and Drain Cleaning
he fixed the problem
---
Response from Valley Plumbing and Drain Cleaning:

Thank you for your review. I hope you call us whenever you need a plumber.
---
Great friendly service
Bob

-

Clearfield

,

UT



Review of Valley Plumbing and Drain Cleaning
---
Eric S.
Results: jetted the 6 inch storm drain in the back of lot 9. Customer had lid pulled and area ready for us to jet the drain lines. We ran the jetter approximately 200 feet. There were 3 areas that were difficult to get through. We did get through them. We then ran a camera as far as we could, 170 feet. We did see roots in the line at 3 locations, 2 of which are under the home at lot 9. We strongly recommend jetting this line a minimum of 2 times a year. We will be putting a bid together for a lining of the bad section which is the first 80 feet.
Near
1350 West 300 N,

Clearfield

,

UT

84015
Brian U.
We will remove the lid on the the Storm drain box and jet from the box through the line that runs south west out to the main road the box is full of water and we will probably have to pump it out the customer will be onsite if there is any questions about what line in the box to jet this is only for two hrs it will be 387.07 per hour after the first two hours. **** There is a massive rootball at the entrance of the pipe and extends into the pipe. It is unknown how far the rootball extends into the pipe. Was unable to jet the line. Sent an estimate to dig and repair and additional jetting if needed. Todays charge is for the attempt to clear the line.
Near
1350 West 300 N,

Clearfield

,

UT

84015
joshua.ashby@gmx.com
Replace the shut off valve for the hall bathroom toilet with new supply line. Water lines are galvanized coming out of the wall. Turn on the water and test for leaks, everything is working great.
Near
E 300 S,

Clearfield

,

UT

84015
Brandon Y.
Total-c 1 bottle and 1st treatment
Near
Villa Dr,

Clearfield

,

UT

84015
Brian U.
Cleared floor drain through trap ran down a small auger also plunged. The floor drain seems to be taking better a lot better. Took the hose from the washer and shot the water down the drain. Ran washer drain still backs up slightly due to how much water is being pumped into the floor drain but it goes down right away once the drain can catch up. There is signs of a mainline backup including what appears to be sewage around the floor drain mostly under the washer. Towers is not responsible for cleanup. No warranty on this drain cleaning due to the apparent backup. Would suggest replacing the floor drain at some point and doing a proper drain for the washer. Can give a bid for this if customer is interested.
Near
E 100 N,

Clearfield

,

UT

84015