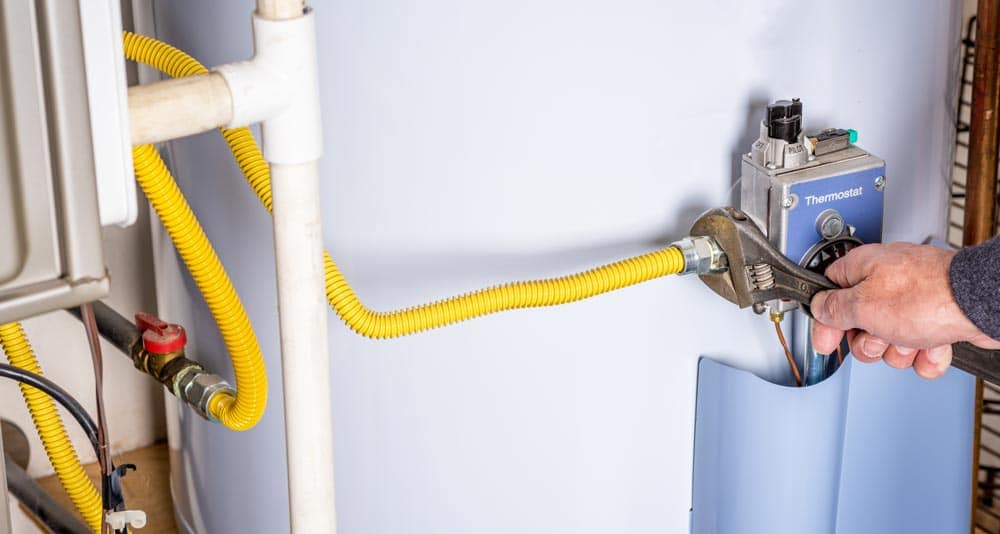 Suspect a gas leak in your home? Contact your local gas line technicians at Valley Plumbing and Drain Cleaning for immediate service in Salt Lake County and Utah County.
Save on your next service when you access our exclusive specials and online coupons.
Dangers of Gas Leaks 
Gas is odorless and colorless, however sulfur is added to it to make it easier to detect. Although they are dangerous for a number of reasons, here are the most common causes for concern:
They can cause respiratory problems and if breathed in enough, they can actually incapacitate a person.

Natural gas is flammable, so if there is a spark near the leak, it could cause a fire or explosion.
If you suspect a gas leak in your home, turn to a licensed professional plumber to spot and repair it quickly and efficiently to ensure the safety of your home and family.
When Is It Time To Replace the Gas Line?
Older gas lines can be a hazard and should be replaced as soon as possible. If your gas line has been damaged in the past, it needs to be replaced to ensure the integrity of the system.
When our licensed plumbers work on a gas line, they will be able to identify problems on the line that must be solved before the homeowner can come back into the house.
The lines that go to individual appliances such as the stove, oven, and water heater need to be checked to ensure that they are in proper working order, and there is no risk of leaking.
When you get an inspection from us, our technicians will be able to identify any existing or potential problems with any of the gas lines in the home. Sometimes, these problems can be so extensive that an entire new system will have to be put in place. This ensures that you will be able to avoid any problems that normally come with an aging system.
What Are Signs of a Gas Leak?
If you smell sulfur (or a rotten egg odor) in the house, you can be almost certain that gas is leaking from somewhere. The smell is a trigger that everyone in the house should be familiar with. Here are a few other signs to watch out for:
Dead plant life near the gas line
Hissing noise close to a pipeline or gas appliance
Excess bubbles in ponds near your home
A fire, if the leak has already ignited
Any of these signs should raise a red flag and if you notice them call a licensed professional to perform and inspection and repair the problem immediately.
Take a look at what area homeowners are saying in our customer comments and reviews.
What Should You Do When There Is a Gas Leak?
If you do experience a gas leak, here are some steps to take to make sure the situation gets resolved quickly and safely.
Make sure you…
Turn off gas shut off valve

Open doors, windows, and shut off all electronics

Go outside, along with the rest of the occupants

Call us for same-day emergency service
Understanding how the gas line works, getting it replaced, and knowing the signs of a gas leak can help save your life and your home.