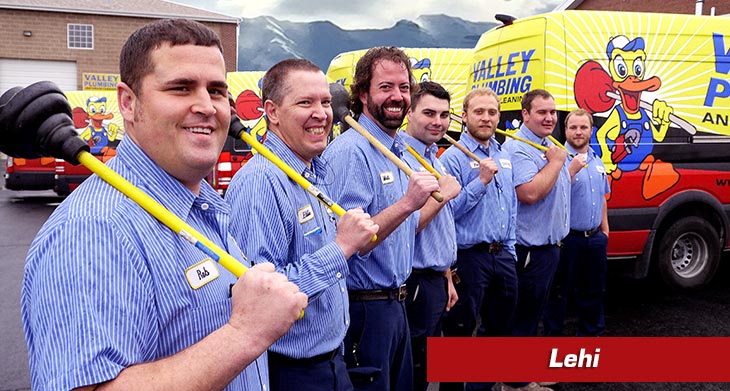 Are you experiencing plumbing trouble on your property? You don't have to suffer from a malfunctioning or troublesome plumbing system. When you rely on Valley Plumbing and Drain Cleaning, you are entrusting your home to professional, courteous, and knowledgeable plumbers. Count on our team to provide your Lehi, UT home with quality plumbing, water heater, and drain cleaning services at competitive rates. No matter the day or time, we're here for you 24 hours a day, 7 days a week. Call us today and receive no service charge!
Unlock additional promos and coupons and save even more on your next service.
Why Should You Consider Water Leak Detection Services?
Water leak detection helps you discover water leaks that are not otherwise apparent in your house. You could have a number of hidden water leaks in your property and not even know it. This service is highly beneficial for homeowners. Consider these advantages:
Leaks can be discovered and repaired quickly.
Fix problems as a result of undetected leaks.
Uncover the source of a mold or mildew if a problem is apparent.
The water leak detection service allows you to get underlying problems in the home fixed quickly, and may also show you what has been causing major issues. The plumber can fix these problems easily once they find the source of the leak.
What Are the Signs You Need Professional Drain Cleaning?
Because drains are used everyday, they have the potential to clog and backup. Professional drain cleaning is a service homeowners should invest in at least once a year. Not only can professional drain cleaning resolve any drainage issue such as frequent clogs and back up, it is also a preventative service. Having your drains cleaned greatly reduces the chances of future clogs and back up.
The following signs alert you a professional cleaning is necessary:
Mold and mildew discovered in your pipes.
Odd odor coming from drains.
Gunk buildup in your pipes.
If you have more questions regarding professional drain cleaning, you can count on our friendly, courteous staff to answer them for you.
Curious to know what others are saying about us? Read our latest customer reviews and testimonials and find out what all the hype is about.
Should You Repair or Replace Your Water Heater?
Homeowners may not always be sure when exactly their water heater is in need of repairs or replacement. Our team of expert plumbers can inspect your unit and provide you with the best course of action. Luckily, there are a few signs to look out for so that you can call us before any extensive damage or inconvenience occurs.
Your unit may need to be repaired or replaced if:
It constantly breaks down.
The water either does not get hot enough or at all.
You experience temperature inconsistencies.
Unit is older than 15 years old.
Local Reviews
for Lehi, UT
Rated
4.9
out of 5 stars based on
27
customer reviews
Powered by Nearby Now
---
Gas hot water heater and water softener
Andy

-

Lehi

,

UT



Excellent. Great people, made & exceeded promises. Equipment gets Very good reviews. Workmanship looks great and professional
---
Great Job! Honest
Trevor

-

Lehi

,

UT



---
Response from Valley Plumbing and Drain Cleaning:

Thank you for the great review Trevor! We are glad to hear you had a great experience with our team. Call us anytime! All the best, Valley Plumbing
---
Really informative
Tanner

-

Lehi

,

UT



He fixed our problem and also took time to review the rest of our plumbing.
---
Response from Valley Plumbing and Drain Cleaning:

Thank you for the detailed review Tanner! We are so pleased you had a great experience. Our team is happy to help. Call us anytime! All the best, Valley Plumbing
---
good fast service
Gary

-

Lehi

,

UT



---
Amazing Friendly Customer Service
Paige

-

Lehi

,

UT



Valley plumbing was able to come out to my house quickly and they were very prompt. The work was done extremely quickly but correctly! They were respectful of my home and family. I would highly reccomend this company to anyone!
---
Jon .
We will remove the old old toilet and replace with a new one. Wax ring, supply line and bolts.
Near
S Jordan Way,

Lehi

,

UT

84043
Jon .
We will install a 50 gallon heater and also a 48,000 grain softner. We will add one more EQ strap to the water heater and will have to make sure the water softner has the correct loop to the home. Customer was wanting an energy star heater and there was some confusion on the technician part.
Near
Pheasant Ridge Trail N,

Lehi

,

UT

84043
Jon .
Install customer supplied dishwasher
Near
E 1620 N,

Lehi

,

UT

84043
Jon .
Shower valve has some scoring on the inside the valve. We will cut the sheetrock on the back side of the shower in the living room to access the valve and make the repair. We do not replace sheetrock, but we can make referrals to good contractors. Cold and hot water lines are 1/2" CPVC. Reusing chrome trim and handle. Took $145 off the total.
Near
Pointe Meadow Loop W,

Lehi

,

UT

84043
Jon .
Toto toilet in the master bath is leaking from the main tank to bowl gasket or the bolts that hold the tank down. Recommend we replace the gaskets.
Near
E 3280 N,

Lehi

,

UT

84043