Homeowners and businesses in Washington Terrace, UT can count on Valley Plumbing and Drain Cleaning for all their plumbing needs. Whether it's a leak or damaged pipes, you'll want the most reputable and dependable contractors working for you. And that's where we come in. There's no job too big or too small. With a wide range of experience in the industry, we can address all your plumbing issues including:
Hot water heater repair
Water heater maintenance
Hot water tank replacement
Clogged drain repair
And more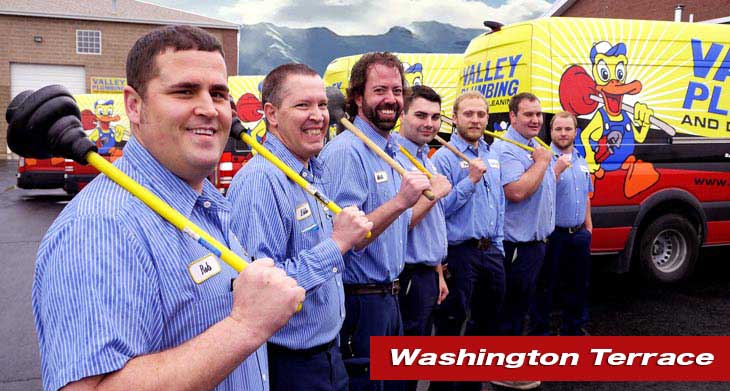 Find out what our clients say about us on our reviews page.
Fast, Reliable, Emergency Plumbing Services
It doesn't matter whether you've experienced a clogged sink or a leaky toilet, Valley Plumbing and Drain Cleaning professionals are available to provide emergency plumbing services. Even if you are clueless as to what the problem is, our 24 hour plumber will know how to handle it. They will arrive for a quick assessment of the situation and provide emergency plumbing repair services.
Signs Your Water Heater Needs Repairs
A decreased amount of hot water: most water heaters have two heating elements. If one of them malfunctions, the water may either come out hot, cold or lukewarm.
You notice leaks: leaks often mean you need a new water heater, but some minor leaks can be repaired. So, if you notice water pooling around your water heater, shut off the power to the appliance and call your plumber immediately.
You heater rumbles, pops or cracks: Most water heaters will make some noise while in use. However, any loud, new or strange noises should be a cause for concern.
We are excited to bring affordable, high-quality plumbing services to your home in Washington Terrace. Find out more about us.
What Are the Benefits of Regular Drain Cleaning?
Reduce Blockages: When your drains are cleaned regularly, you can prevent blockages and keep drains flowing freely.
Limit smells: Regular drain cleaning will help to get rid of sewer smell by keeping your drains clean and free of odors.
Clean home: when your drains are cleaned regularly, it helps to prevent serious cleanliness concerns by keeping your home free of bad odors and overflows.
Reduce expenses: Having your drains cleaned regularly can help to prevent serious problems such as pipes bursting or drains overflowing that can have significant financial implications.