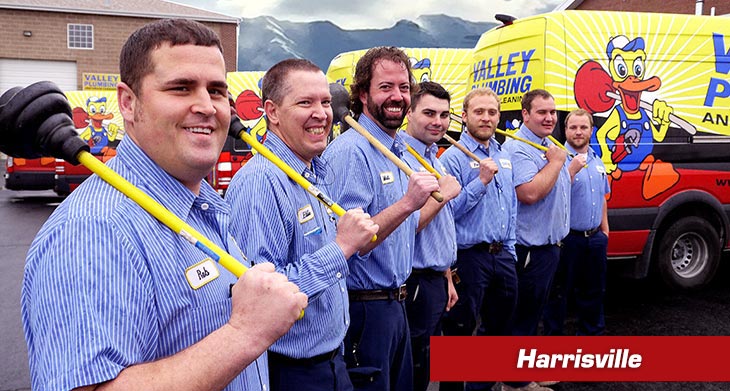 Valley Plumbing and Drain Cleaning knows that plumbing problems don't happen at convenient times. That's why we have experts standing by to take your call 24/7 if you have a plumbing emergency in Harrisville, UT
Check out our customer reviews to see why our customers know they can rely on us no matter what.
Emergency Plumbing Services
Plumbing problems can quickly turn into serious issues if they are ignored. If you call us as soon as you notice a problem, we'll be more likely able to save you time, money, and repairs on other systems in your home. Emergency plumbing situations are anything that could cause damage or danger to your home or the people inside. Here's some tips to avoid plumbing emergencies:
Properly insulate your pipes and use a heat wrap in extreme situations.
Trickle water so your pipes don't freeze.
Call us right away if you lose water pressure unexpectedly.
Look for signs of leaks inside your property.
Have your pipes inspected regularly and replace old ones.
Don't put anything down your drains except water and non-solidifying liquid.
Common Water Heater Problems and Our Solutions
We want our customers to know what's going on so they can make informed decisions on what is best for them with the help of our professionals. If you suspect you have a problem with your water heater, call us right away so you don't have to worry longer than you need to. While the professional is on the way, here are some solutions to consider:
Lack of hot water: If you have a gas water heater, your pilot light might need relit. In other cases, your heating element might need to be replaced.
Leaking: Could go either way on repair or replacement depending on the severity of the problem.
Excess noise: Might indicate a damaged heating element or sediment buildup on the inside components.
Read about our tankless water heater installation and repair service.
Reliable Drain Cleaning
Over the counter drain cleaner isn't a good long-term solution for the health of your pipes. And while it dissolves clogs, it also does a number on your pipes. That's why we suggest routine professional drain cleaning for our clients. That way, your pipes can stay in our sight and out of your worries.
Clears stubborn clogs.
Eliminates slow drains.
Lowers the risk of plumbing emergencies.
Reduces odors.
Let us identify other plumbing issues that may be affecting your water use and drainage.
Local Reviews
for Harrisville, UT
---
Matt A.
3/3- customer is having issues with their kitchen line backing up. I remove the P-trap and ran my cable out about 60 feet then pulled it back and reinstall the P-trap but it was still plugged up so I remove the P-trap again and ran the cable out about 75 feet this time the full length that the machine could go. And then pulled it back reinstalled P-trap but it was still plugged up. I informed customer that we can jet it and I sent her a estimate to jet the kitchen line.
Near

Wahlen Way,

Harrisville

,

UT

84404
Josh A.
Remove old shower pan and surrounding and replace with new. Labor $1329.51 Parts $600
Near

1000 N,

Harrisville

,

UT

84404
Josh A.
Remove old toilet in Upstairs main bathroom. Install new Koehler power flush toilet. Toilet Koehler Power Flush Part Numbers Bowl= k-4304-0, Tank= k-4645-0, Seat= Church 170TL Includes new toilet wax and supply tube
Near

W 1650 N,

Harrisville

,

UT

84404
Josh A.
Checked toilet to see why they are still backing up. = Suggest replace toilet with anti-clog toilet.
Near

W 1650 N,

Harrisville

,

UT

84404
Josh A.
camera upstairs toilet to find out problem with backup. If there is a problem with drain/vent, we will write up a separate estimate to fix drain/vent problem. If there are no problems with drain/vent, then it is most likely a toilet problem. -camera the drain in main bath toilet. Lots of bends in 3in line from toilet to plumbing stack. It did however vent and the vent is clear. The bends in the line could possible be the problem to the backups, but highly doubtful. Recommend watching what is put down toilet, use less toilet paper. Toilets are a month old, and are good quality toilets that flush normally.
Near

W 1650 N,

Harrisville

,

UT

84404