Most people take their plumbing for granted, until something goes wrong. That's why you need a dependable plumber you can call to help with everything from clogged drains to water heater problems. At Valley Plumbing and Drain Cleaning our staff of trained plumbers can handle a range of plumbing issues. If you have a planned installation or plumbing emergency that needs to be taken care of right away, give us a call.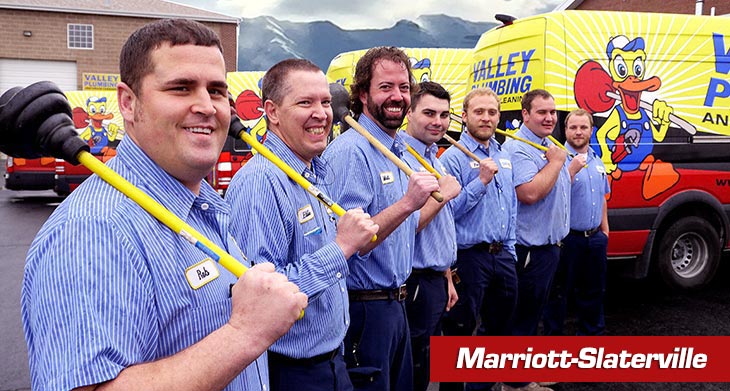 Not sure if our pros can handle the job? Check out our customer reviews and see what people have to say.
When Do You Need Water Heater Repair or Replacement?
Call for water heater repair or replacement if:
Your water is rust colored. This could mean your tank is rusting which means it's time for a new one.
Your hot water constantly goes out during your shower. Professional repair or replacement is needed.
Your water heater is leaking. Unless the problem is condensation, a leaking hot water tank is a sure sign it's time to replace your water heater.
Your water heater is over 10 years old. If that's the case, replacing it with a newer, more efficient unit will probably be the best choice.
Plumbing Problems That Call for a 24 Hour Plumber
If you're experiencing any of the following, it's time to call an emergency plumber!
If your sewer backs up, this is a health hazard. Call a 24 hour plumber right away.
Flooding can damage your property, but it also poses a health risk. Don't put your family's safety in jeopardy.
If you've lost access to running water, call a 24 hour plumbing company for help.
A burst pipe can cause serious property damage and dangerous mold. Call a plumber if a pipe has burst in your home.
Take advantage of our cost saving coupons to ease the financial stress plumbing problems can cause.
Signs You Need Professional Drain Cleaning Services
Clogged drains are one of the most frustrating- not to mention unsanitary- plumbing problems you can face in your home. If you're experiencing any of the following, you may need to call for professional drain cleaning:
Drains that are slow to empty
Odors coming from your drains
Gurgling sounds coming from the drain or toilet
Multiple clogged drains could indicate a problem deeper in the sewer line