For quality plumbing services, including drain cleaning, water heater repair, and everything in between, call Valley Plumbing and Drain Cleaning in Roy, UT. We are a licensed and insured residential plumbing company with decades of providing our customers with quality service. Our plumbers are certified and trained to provide repairs and installations that are always code-compliant.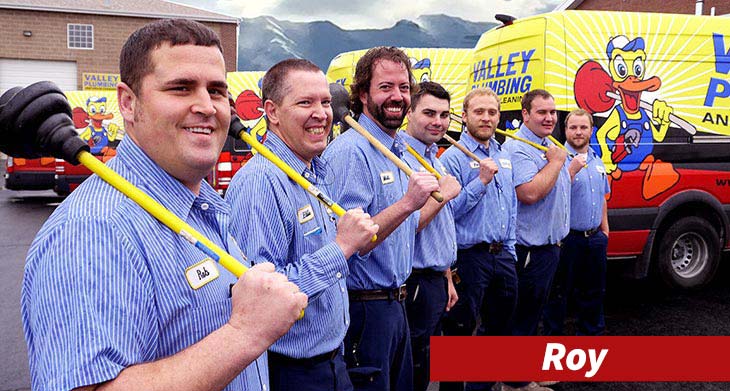 Our customers are singing our praises! Check out our customer reviews and testimonials.
24 Hour Plumbing Repair Services
Need a new water heater? Got a blocked drain or clogged toilet? Plumbing problems are a hassle and require a professional to ensure the work is done right. At Valley Plumbing and Drain Cleaning, our plumbers are licensed and insured and all work is carried out to code.
Our team is available 24 hours a day, 7 days a week for your safety! We know that plumbing emergencies happen and when they do, we're here for you. Valley Plumbing and Drain Cleaning is just a phone call away from providing you with expert 24 hour plumbing services in Roy. Call us today for service and we'll dispatch a technician to your home.
Benefits of Routine Drain Cleaning
Valley Plumbing and Drain Cleaning offers dependable maintenance service for your drain lines. Every year we will send a drain cleaning specialist to your home to examine your drains. We'll flush out any debris and stuck-on grease that has accumulated throughout the year. Drain lines that connect to your sink, tub, shower, and appliances are particularly prone to collect debris and require yearly inspection and maintenance.
Doing this regularly will keep the drains clear, and ensure that you never have a sewer back-up issue. Call us today for planned drain cleaning service and receive these added benefits:
No surprise emergencies
Eliminate slow drains
Reduced blockages
No strange odors
Peace of mind
Call Valley Plumbing and Drain Cleaning for professional drain cleaning by licensed plumbers. We'll keep your drainage system flowing freely so you can enjoy trouble-free drains all year long.
If you're on a budget, and who isn't, you'll love our online coupons and other special savings.
Thinking of Switching to a Tankless Water Heater?
Tankless water heaters are growing in popularity around Roy, UT. These incredibly efficient units work by connecting directly to the plumbing line, using a series of high-efficiency heating elements to heat the water as it passes through the system.
Here are some of the benefits you can expect when you go tankless:
You will save money on your energy bill since point of use systems only heat water as it is needed.
Your home will have more open space without a bulky water tank to store.
Since the unit is connected directly to the plumbing, you will have access to unlimited hot water whenever you need it.
On-demand units last 5-10 years longer than tanked units, and you will spend less on repairs and service.
Whether you're considering installing an instant hot water heater or need to repair your conventional water heater, call Valley Plumbing and Drain Cleaning. Our water heater pros can help you decide on the right type and size of water heater to fit your needs.