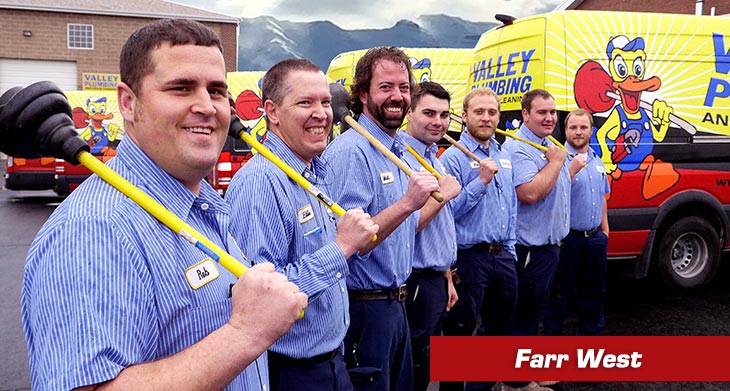 Whether you've got a major plumbing problem or just need to schedule a routine maintenance visit, we have professionals standing by waiting to help you with whatever you need. Call Valley Plumbing and Drain Cleaning today in Farr West, UT.
Read our customer reviews to learn more about what our excellent service looks like!
What Counts as a Plumbing Emergency?
Any plumbing malfunction that causes damage to your system or home is considered an emergency. If you have a serious problem, you need to have a reliable, 24 service you can count on. Day or night, we have a professional ready to take your call. Since plumbing emergencies can start small and turn into big problems fast, our immediate service is designed to get our professionals to you as soon as possible. So, what is a plumbing emergency anyways?
Pipe bursts: leaky pipes turn into a major problem as pressure builds
Slab Leaks: water pools under your foundation
Gas Leaks: put you and everyone in your home at serious risk
Severe Clogs: lead to pipe bursts and backups
Expert Water Heater Services
The two main options for hot water heaters are traditional and tankless systems. Tankless systems are new and improved versions of traditional water heating systems. Because they don't continually keep an entire tank of water heated, it heats water on demand so you use only what you need and save energy. And, they require less maintenance and are less likely to have contaminated water.
Heat exactly what is needed
Decreases energy bills
Requires less maintenance
More sanitary
Saves space
Slow toilets? We also provide expert sewer line repair and replacement.
Professional Drain Cleaning Services
Over the counter drain cleaners can actually cause more harm than good. They eat away at your clogs...and your pipes. That's why we recommend a routine professional drain cleaning. Here are some telling signs that you might need one:
Slow drains: could mean the buildup of a clog or narrowing of pipe walls due to mineral buildup.
Recurring clogs: might tell you that you aren't removing the entire clog. Partial clogs can travel deeper into your line and cause even more problems.
Multiple drains that are clogged at one time: sometimes indicate the beginning of a sewage backup.
Foul odor: either food is stuck or you have a major issue with your sewage line.
Flooding: This might mean your sewage has already backed up. Call us right away, especially if there is contaminated water on your floor as this can be a health risk to the people in your property.