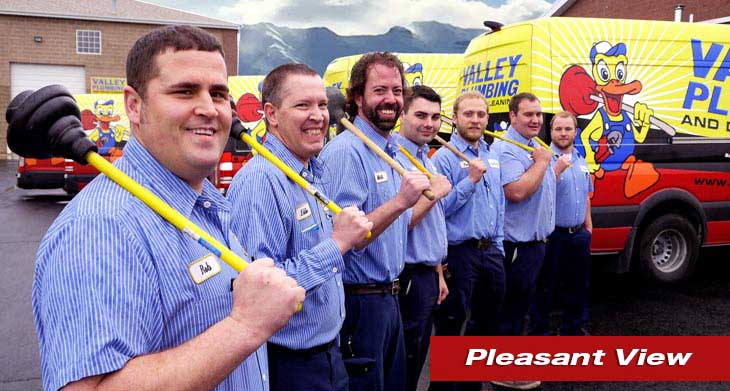 Are you looking for a reliable plumber in Pleasant View, UT? Do you need high-quality services at a competitive price? Then you've come to the right place. Valley Plumbing and Drain Cleaning brings valuable plumbing experience and expertise.
Check out our reviews and find out why your neighbors trust us to provide plumbing, water heating and drain cleaning services.
Trusted 24 Hour Plumbing Services
When you're faced with a plumbing emergency, time is everything. Valley Plumbing and Drain Cleaning offers a wide range of 24 hour emergency plumbing services round the clock to restore your plumbing system to its optimal state in no time.
What to Expect During a Drain Cleaning Service?
When you call for drain cleaning and repair, your service will typically look something like this:
Questions: We'll start by asking a series of questions to get more background on the history of your home and plumbing system.
Set an agenda for the service: This helps you to fully understand the diagnostic process, camera inspection and drain cleaning service.
Diagnostics: We'll inspect your plumbing fixtures and check for any backups. This step is critical in helping to choose the equipment best suited for the job.
Set up: Once we've established clear access to the service area, we'll protect your home with drop cloths.
Drain cleaning: This is when the cleaning happens. Our machines will clear the sewer line and if the clog cannot be cleared, recommend a camera inspection to determine how severe the problem is.
Testing of fixtures: Once everything is cleared, we'll run several fixtures simultaneously to test flow.
Camera inspection: After clearing your drains and sewer line, we'll do a camera inspection to identify what caused the clog in the first place. This may uncover broken or damaged sewer lines, which may require sewer line repair or replacement.
Find out more about us and why you should partner with us to provide high-quality plumbing services.
Reliable Water Heater Services
Not sure if it's time for a new water heater? Here are some signs that say you do:
Age: If your heater is more than 10 years old, start shopping around for a new one as it could be nearing the end of its useful life.
No hot water: This may result from a tripped circuit breaker or a pilot light that's out. It's also a typical sign that your water heater has reached the end of its useful life.
Strange smells: If your hot water tastes and smells metallic, that's a sign it's breaking down, such that flakes and grit from your hot water tank are combining with your water supply.