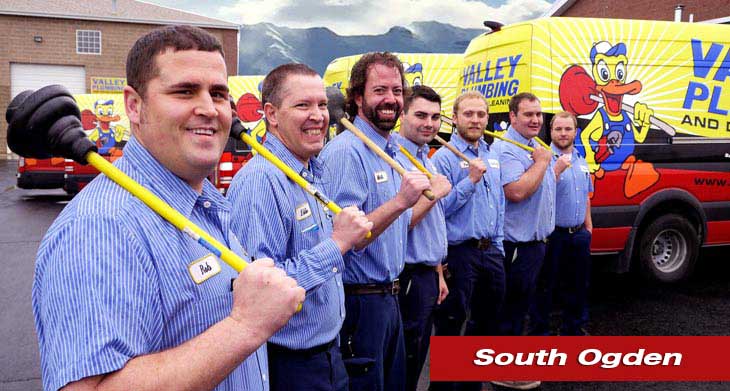 As a premier plumbing services provider in Ogden, UT, the team at Valley Plumbing and Drain Cleaning knows what it takes to ensure your plumbing systems is in excellent working condition. We are your one-stop service destination for plumbing expertise and know-how. Our services range from water heater installation and drain cleaning to water leak detection and bathroom remodeling.
Your 24 Hour Emergency Plumbing Company
A plumbing emergency can happen at any time. That's why you need the services of a 24 hour plumber. At Valley Plumbing and Drain Cleaning, our priority is to provide services whenever you need them. Our emergency plumbers will be at your premises as soon as possible to restore your plumbing system to optimal working condition.
Read our latest customer reviews and comments to find out why we're your trusted plumber in South Ogden, UT.
Signs It's Time to Replace Your Water Heater
Is it time for water heater replacement? Here are some signs that say yes:
Leaks around the tank - as your water heater tank expands and contracts, it slowly weakens and can develop cracks and fractures that may eventually let water seep out. This is a sign that you need to replace your system.
Rusty hot water - rusty water coming from your faucets is a clear indication that the inside of your hot water tank has rusted and is likely to leak. Your water heater slows down rusting thanks to a device known as a sacrificial anode. These anodes wear out and if they're not replaced in time, they can rust.
Advanced age - a well-maintained heater can last up to 15 years. However, most units will gradually drop in efficiency and performance by then. As such, start planning to replace your unit if it's more than 10 years old.
Go to our About Us page and learn more about our history and experience in the plumbing industry.
Benefits of Professional Drain Cleaning Services
While DIY drain cleaners can help in a crisis, they shouldn't be used regularly as they can harm your pipes. Here are some other benefits of calling a professional instead of using liquid drain cleaning products:
Increase in water flow - Accumulation of any kind inside your pipes and drains restricts the flow of water. It's always better to have your drains professionally cleaned to maintain optimum water flow.
Eliminate odors - If you notice foul smells coming from your drains, then you're already dealing with a blockage. It's important to have professionals eliminate the cause of these odors and ensure your plumbing is working as it should.
Repair drain damage - When a drain cleaning contractor comes to your premises, they'll not only clear your drains but also check for pipe damage and have them fixed.
Local Reviews
for South Ogden, UT
---
Eddie D.
Drain lines are pugged; we will run the main drain line from the outside clean out, up too 75 feet in length. Flush toilets too ensure line is clear. The kitchen sink drain is backing up. We will remove the clean out downstairs and run the auger down the drain up too 50 feet long. Flush the line with water too ensure line is clear. Everything seems too be working great. NO WARRANTY on drain cleaning.
Near

Liberty Ave,

South Ogden

,

UT

84403
Dean R.
Installed customer supplied toilet. Installed new closet bolts and caps with wax ring. Set toilet and installed the tank and installed a supply line from shut off valve. Tested and everything is working great. No warranty on customer supplied toilet.
Near

Glasmann Way,

South Ogden

,

UT

84403
Jordan S.
Owners still having trouble with the toilet overflowing. They say that sometimes the toilet gets blocked up and it also still runs and so when it overflows it makes a huge mess because water keeps coming out. Results: Install a new toilet with a cylinder type flush mechanism. Right height and elongated. Kohler Kelston model. Caulk sealed around the base boards near the toilet for added protection. Added new wax ring and reinstalled customers existing toilet seat. Tested flush and caulk sealed the toilet on the floor. If any backup issues persist we should further investigate a piping issue.
Near

E 5250 S,

South Ogden

,

UT

84403
Mitch F.
Replace shut off in customer supply toilets. The shut off's include supply lines. Caulk around shower door with clear silicone.
Near

Glasmann Way,

South Ogden

,

UT

84403
Eddie D.
Hall bathroom sink hot water shut off valve is leaking out of the supply line onto the cold side shut off valve and into the cabinet. We removed the valve for the hot and cold for the sink and the cold for the toilet and replaced them with new ball valve style shut off valves. Turned the water on too the house and tested for leaks, everything is working great, no leaks.
Near

Glasmann Way,

South Ogden

,

UT

84403