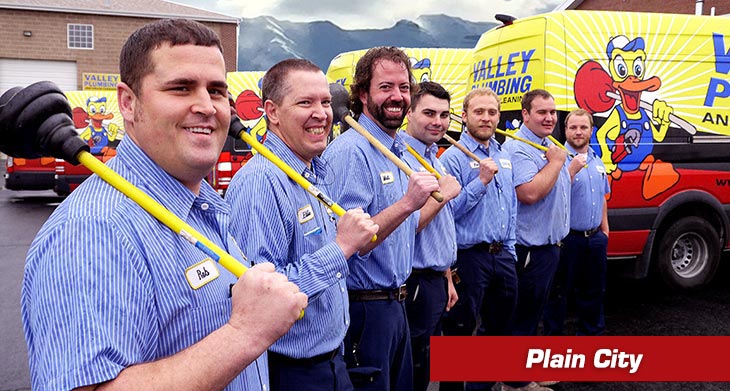 Valley Plumbing and Drain Cleaning takes pride in servicing the greater Plain City area. From urgent plumbing needs to routine professional drain cleanings, we've got you covered. Don't hesitate to reach out to us for any plumbing issue in Plain City, UT.
Take it from our customers! Read our reviews to see why our customers come back time and again.
Emergency Plumbing When You Need It
Slab leaks and burst pipes are two of the most serious plumbing problems you can have. A slab leak refers to any water or sewer leak underneath your foundation. These can go unnoticed for a long time, which can cause some serious flooding, yard damage, and piping issues. Standing water from a leaky pipe inside or under your home can breed mold and mildew, so if you notice these signs, call us today:
A steady increase in your monthly water bills without any change in usage.
The sound of running water in your home or building, especially when everything is turned off.
Specific areas of your foundation feel hot or cold.
Cracks in the base of your basement walls or along the foundation.
Mildew growth
Perks of Installing a Tankless Water Heater
We install traditional and tankless water heaters, but here is what we love about tankless systems--they don't have a water tank. That way, your system only heats the water you demand from the faucet instead of keeping an entire tank heated at all times. They use less energy, and you'll see the difference in your monthly energy bills. Your water is also less likely to be contaminated and they last longer since they don't have to work as hard.
Save space.
No wait time for hot water.
Energy efficient.
Lasts longer.
Concerned you might have a water leak? Read about our leak detection services.
Keeping Your Pipes Clean With Professional Drain Cleaning
There are few things more frustrating than slow drains. And while over the counter drain cleaner can do the trick in a pinch, it isn't good for your pipes. We recommend scheduling routine professional drain cleanings for your convenience and so we can keep an eye on your system and fix problems before they arise. In between cleanings, be sure to:
Keep food scraps out of kitchen drains. Instead, scrape excess food into the trash.
Keep hair out of bathroom drains. Install drain screens in tubs and showers.
Keep anything but sewage and toilet paper out of toilets.