Whether you need a clogged drain repair or a water heater installation, at Valley Plumbing and Drain Cleaning in Ogden, UT, we got you covered. We provide residents with general plumbing services, including drain cleaning and water heater maintenance. Our plumbers are licensed and insured, and our plumbing services always comply with local and state code.
For your convenience, we offer flat-rate prices, guaranteed service, and tidy plumbers who leave your house as neat as they found it.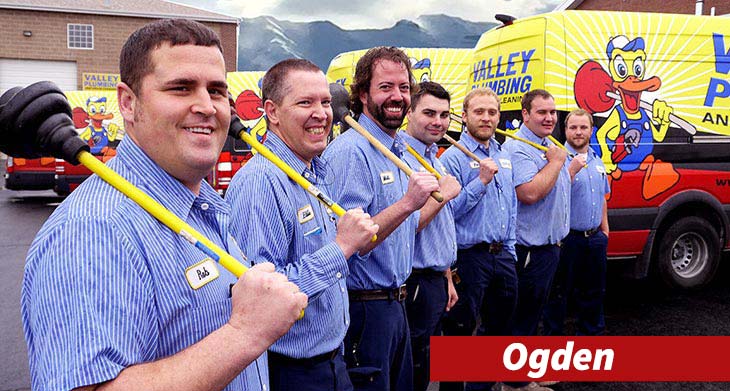 Read what our customers are saying about us in these unbiased customer reviews.
Complete Plumbing Service Contractor
Valley Plumbing and Drain Cleaning is a licensed and insured residential plumbing company. We provide a full range of plumbing services, including water heater and drain cleaning services.
We also provide expert 24 hour emergency plumbing services. Whether you're dealing with a burst pipe or gas leak, we're here to help around the clock. Call us anytime you need high-quality plumbing services by a licensed, reputable 24 hour plumber in Ogden
Signs You May Need Professional Drain Cleaning
Get a head start on stubborn drain blockages by adopting a few simple DIY habits to keep your drains clear. But before you can take steps to correct a problem, you have to be able to identify it first. Here are a few ways you can tell that your drains may need professional cleaning:
A slow drain can point to many problems, from simple clogs to improper grading of your sewer line system.
Simultaneous, multiple clogs could be a sign of a seriously blocked drain in your main sewer line. Consult with a drain cleaning expert.
Odd odors emanating from your drain means there may be food fragments stuck in the drain. It can also be a sewer line issue that requires professional attention.
Flooding is a sewage backup, plain and simple. It's hard to ignore a sewage backup in the home when you're standing in the middle of it. This is caused by a severely blocked drain.
Contact us today and let our licensed plumbers clear even your toughest clogs.
When to Repair or Replace Your Water Heater
Many things go into play when deciding if you need a new water heater or repair your existing unit. Poor efficiency and age of your system are the main considerations, as well as:
Wear & tear
Leaking or corroded tank
Rust-colored hot water
Lukewarm water
Stagnant water around the drain valve
Cracks in the tank
Any of the above issues may point to a need for repairs or replacement of your water heater. If your current unit is older than 12 years, it may be time for a new one. If your unit is still relatively new, it may be less expensive to repair it.
Some homeowners like to apply the "$5,000 rule" which is you take the age of the equipment and multiply it by the estimated repair cost. If the number exceeds $5,000, you should replace it. If not, repair it.
Don't play a numbers game with your budget! If you need help making a decision, call Valley Plumbing and Drain Cleaning. We are always happy to help.