Whether you need a clogged drain repair or a water heater installation, at Valley Plumbing and Drain Cleaning in Ogden, UT, we got you covered. We provide residents with general plumbing services, including drain cleaning and water heater maintenance. Our plumbers are licensed and insured, and our plumbing services always comply with local and state code.
For your convenience, we offer flat-rate prices, guaranteed service, and tidy plumbers who leave your house as neat as they found it.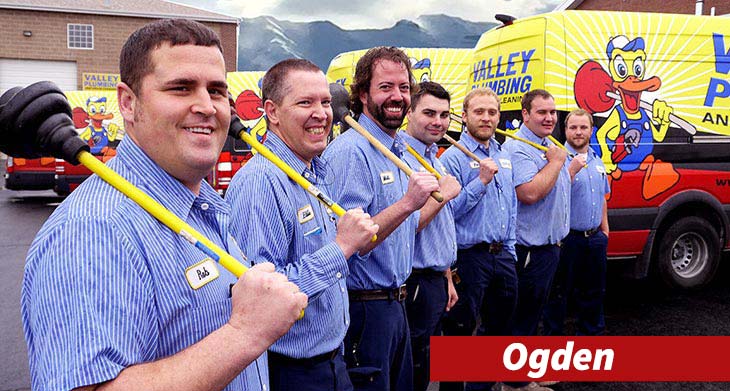 Read what our customers are saying about us in these unbiased customer reviews.
Complete Plumbing Service Contractor
Valley Plumbing and Drain Cleaning is a licensed and insured residential plumbing company. We provide a full range of plumbing services, including water heater and drain cleaning services.
We also provide expert 24 hour emergency plumbing services. Whether you're dealing with a burst pipe or gas leak, we're here to help around the clock. Call us anytime you need high-quality plumbing services by a licensed, reputable 24 hour plumber in Ogden
Signs You May Need Professional Drain Cleaning
Get a head start on stubborn drain blockages by adopting a few simple DIY habits to keep your drains clear. But before you can take steps to correct a problem, you have to be able to identify it first. Here are a few ways you can tell that your drains may need professional cleaning:
A slow drain can point to many problems, from simple clogs to improper grading of your sewer line system.
Simultaneous, multiple clogs could be a sign of a seriously blocked drain in your main sewer line. Consult with a drain cleaning expert.
Odd odors emanating from your drain means there may be food fragments stuck in the drain. It can also be a sewer line issue that requires professional attention.
Flooding is a sewage backup, plain and simple. It's hard to ignore a sewage backup in the home when you're standing in the middle of it. This is caused by a severely blocked drain.
Contact us today and let our licensed plumbers clear even your toughest clogs.
When to Repair or Replace Your Water Heater
Many things go into play when deciding if you need a new water heater or repair your existing unit. Poor efficiency and age of your system are the main considerations, as well as:
Wear & tear
Leaking or corroded tank
Rust-colored hot water
Lukewarm water
Stagnant water around the drain valve
Cracks in the tank
Any of the above issues may point to a need for repairs or replacement of your water heater. If your current unit is older than 12 years, it may be time for a new one. If your unit is still relatively new, it may be less expensive to repair it.
Some homeowners like to apply the "$5,000 rule" which is you take the age of the equipment and multiply it by the estimated repair cost. If the number exceeds $5,000, you should replace it. If not, repair it.
Don't play a numbers game with your budget! If you need help making a decision, call Valley Plumbing and Drain Cleaning. We are always happy to help.
Local Reviews
for Ogden, UT
Valley Plumbing and Drain Cleaning
Rated
4.9
out of 5 stars based on
21
customer reviews
Powered by Nearby Now
---
Saved my house, and my day!
Kema

-

Ogden

,

UT

84403



Review of
Valley Plumbing and Drain Cleaning
Jeremy and his partner (I apologize I forgot his name) knocked on my door 30 minutes after I broke a water line connecting to my outside bib. They were at the wrong house for their appointment, but I got their card and got added to their schedule because I needed help! I was so happy when they knocked on my door, and not 20 minutes later they were at my house. They were efficient, and professional, and I would absolutely call either again for help with my plumbing. 10/10 saved my day when they knocked on my front door!
---
Great service. Punctual and efficient.
Brett

-

Ogden

,

UT

84405



Review of
Valley Plumbing and Drain Cleaning
Jesse and his associate were very personable and efficient in their jobs. I would recommend!
---
Highly recommend!
Jason

-

Ogden

,

UT

84404



Review of
Valley Plumbing and Drain Cleaning
Another great experience. Great technicians and company.
---
Mitch was top notch. Highly recommend!
Jason

-

Ogden

,

UT

84404



Review of
Valley Plumbing and Drain Cleaning
Great service from Mitch and his apprentice Spencer.
---
Great
Renae

-

Ogden

,

UT

84404



Review of
Valley Plumbing and Drain Cleaning
It was Donnie Woodruff. He was great. Knowledgeable, professional and super capable. Thanks Donnie
---
Alex K.
We will install the necessary shutoff valves at the kitchen sink and modify the drain by installing a santee at the proper height. We will also replace the pressure regulator on the main water line after it enters the house. Note: A misunderstanding of how the water is run led to us not having the water shutoff completely to the cold water line in the kitchen when we cut into the pipe. (The main water shutoff valve does not serve the kitchen cold for some reason.) Water escaped into the wall and throughout the kitchen. We have Utah Disaster Restoration drying the water out and taking care of any remediation. We have included a discount for the inconvenience.
Near

E 6600 S,

Ogden

,

UT

84405
Jeremy G.
When I first arrived Jean and her husband showed me to the women's restroom the sink on the far left whenever you turned on water you would get a good leak going into the mechanical room underneath of the bathroom. This estimate is for me to cut into the sheet rock for the Santee underneath the women's restroom sink and the clean out on the back wall of the bathroom and cut into the ceiling of the mechanical room a little bit more to expose all of the piping for me to cut out the Santee clean out and 90 through all three rooms. after all the pipe is cut out I will then be gluing all new ABS joints and fittings after everything is glued together I will then be running water down the sink and making sure there are no other links. after all of the connections are glued and have checked I will then shut off the water to the whole building I will then drain out all the water I will then replace the nipple from the wall and the water shut off to the drinking fountain right beside the bathroo
Near

23rd St,

Ogden

,

UT

84401
Pedro U.
Service call fee
Near

27th St,

Ogden

,

UT

84403
Jeremy G.
When I first arrived to the business Peter the owner had brought me in he then told me that they were drilling holes above the dishwasher it looked like on the second hole he drilled through the water pipe I then gave him my estimate and he wanted us to go ahead with the work. I then went ahead and cut a hole in the sheet rock we do not repair or replace sheet rock. you can then see a quarter inch hole I then cut out the bad part and I put two couplings in and replace section of bad pipe. after that he then turned on the water we then made sure there is no water leaking out of pipe it is all looking good. the part we did work on today come with a one year parts and labor warranty.
Near

Harrison Blvd,

Ogden

,

UT

84403
Pedro U.
We will run snake from out side clean out to clear the mail line cleared main line from out side clean out
Near

27th St,

Ogden

,

UT

84403