When you need a reputable plumbing contractor, call Valley Plumbing and Drain Cleaning in North Ogden, UT.  We have decades of experience in plumbing repairs and replacements, including water heaters, drain cleaning, and much more. Our plumbers are licensed and insured to bring you top-quality workmanship. All of our services comply with local code and regulations.
Give us a call for fast, professional service by skilled and courteous plumbers, flat rates, and customer satisfaction.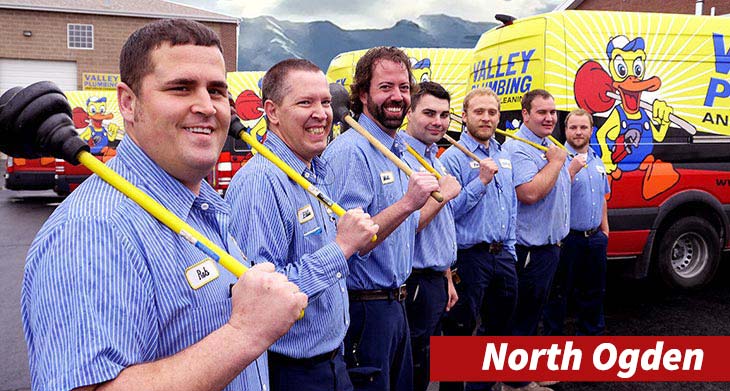 Our honest, unbiased customer reviews are our best referrals. Take a look!
Trusted 24 Hour Plumbing Services
Valley Plumbing and Drain Cleaning has been serving this community with residential plumbing services since 1935! You can bet we know a thing or two about plumbing. We offer a full line of plumbing services, from gas leak detection to water heater repair.
We know that plumbing emergencies rarely happen during regular business hours. That's why we have technicians on call all day, every day. As your reliable 24 hour plumber in North Ogden, we're available around the clock for your safety and convenience!
Should You Repair or Replace Your Water Heater?
If your current water heater fails, you may consider replacing it instead of repairing it. Here is what you need to know: water heaters typically last 8-12 years. If your current unit is older than that, it may be time to replace it, especially if it requires repair frequently. On the other hand, if your unit is still new and rarely needs service, repairing it may be the smarter choice.
Some homeowners like to follow the "$5,000" rule. Simply multiply the age of the unit by the estimated repair cost. If the total is more than $5,000, replace it. If less, repair it.
If you are still undecided, no worries, the experts at Valley Plumbing and Drain Cleaning can help you sort it all out. We'll explain how the size of your home, number of occupants, and your local climate are important factors to consider. We will provide you with all the details you need to choose the right water heater for your home.
Take advantage of our special savings and online coupons for even bigger savings!
Clear Up Bad Smells With Professional Drain Cleaning
Let's be honest, sometimes drains stink. Grease and other gunk that sticks to the walls of your drains will often emit a bad odor that is hard to ignore. If this is a common occurrence in your house, your drains may require professional attention.
At Valley Plumbing and Drain Cleaning, we provide rooter service and drain cleaning by certified plumbers. Our team of experts has the skill and experience to flush out all debris and leave your drainage system clean, and smelling like new. We will apply the most advanced drain cleaning techniques to keep your lines odor-free all year.
For guaranteed clog-free drains all year long, consider annual drain cleaning maintenance. Call Valley Plumbing and Drain Cleaning at the first sign of bad smells.
Local Reviews
for North Ogden, UT
Valley Plumbing and Drain Cleaning
Rated
5.0
out of 5 stars based on
2
customer reviews
---
Great job
Jed

-

North Ogden

,

UT

84414



Review of
Valley Plumbing and Drain Cleaning
---
Great Service!!
Fred

-

North Ogden

,

UT

84414



Review of
Valley Plumbing and Drain Cleaning
Ryan was fast and professional can't ask for more
---
Jeremy G.
When I first arrived homeowner brought me in and brought me to the mechanical room and told me that she wanted her own earthquake straps to be installed on the far right water heater and for the far left water heater to be completely taken out. I then told her that part of code was putting expansion tank on and at this time she only wanted the earthquakes on with recommendations of the home inspector. I then gave her the price to take out the old water heater and to also put on customer supplied earthquake straps and to install a new ball valve and an addition a new quarter turn water stop for a fridge raider line that she wanted at a later time. after she gave the approval I was unable to drain out the old water heater and I was able to install a new ball valve and new quarter turn water stop. I then ran the new waterlines over to the other water heater this warranty is only covering the cold water from coupling to coupling on the cold side just after the swamp cooler quarter turn sta
Near

N 300 E,

North Ogden

,

UT

84414
Mitch F.
Remove the old ice line run it behind the cabinets hook it to existing shut off and fridge.
Near

N Mountain Rd,

North Ogden

,

UT

84414
Eddie D.
We ran the drill auger down the floor drain and only went down about 12-18 inches into the drain, when we pulled it back it had mud on the end of the cable. We ran auger down the laundry drain through the clean out in the wall behind the vent grates in the laundry on the west side of the house, we ran auger up too 75 feet in length. We ran water down the floor drain too ensure the line is cleared. The floor drain will have too be dug up and replaced. We ran the auger down the bathroom sink drain too clear, we removed the trap and ran up too 75 feet into the drain too clear. We also replaced the trap with new trap for code at no extra charge.
Near

2850 N St,

North Ogden

,

UT

84414
Landon L.
I will rebuild the tub shower valve on the main floor bathroom. I rebuilt the tub-shower valve with a couple of Pfister stems and it functions well.
Near

N 600 E,

North Ogden

,

UT

84414
Mitch F.
Replace the pex in the wall as seen in the picture you can see where I used red pex there was a pinhole there tried to turn on the water from the city but my key was not big enough so they're calling the city to get it turned back on.
Near

N Washington Rd Blvd,

North Ogden

,

UT

84414