As a full-service plumbing company, Valley Plumbing and Drain Cleaning is proud to offer plumbing services to homeowners and residents in Riverdale, UT. We are a team of well trained and highly competent professionals who look forward to continuing our reputation for quality work, friendly service and customer satisfaction. We take pride in the quality of our work and are always happy to put our skills to work for you.
Some of our services include:
Hot water heater repair
Water heater maintenance
Hot water tank replacement
Clogged drain repair
Emergency plumbing repair
And more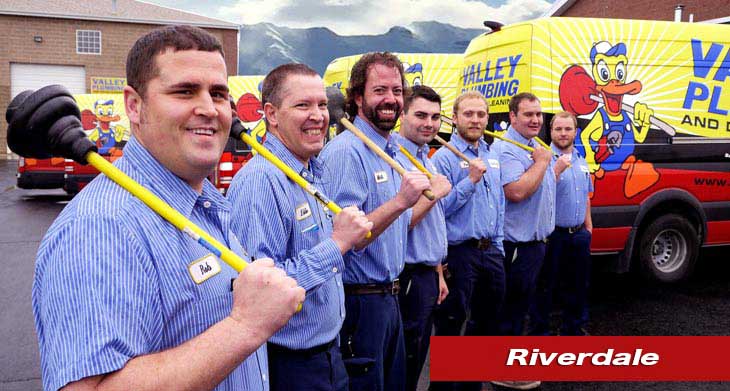 Check out our customer reviews and testimonials and find out what our customers are saying.
Emergency Plumbing Services
Plumbing emergencies often happen when you least expect them. If your hot water heater starts leaking or a pipe bursts, don't delay hiring an emergency plumber to assist you. At Valley Plumbing and Drain Cleaning, we offer emergency plumbing services in Riverdale, UT. When you reach out to us with your plumbing emergency, our 24 hour plumber will arrive on time and make repairs as quickly as possible.
When Is It Time to Replace Your Water Heater?
Here are typical signs that it's time to replace your water heater:
Age: Most often, when your water heater is around ten years old, its time to start watching it closely. Check the unit's age (usually on the rating plate or on the big sticker with the unit's details) as it could be due for replacement.
Rusty water: If you have hot rusty water coming from your faucets, this could indicate a problem with the water heater tank and you should have it replaced.
Noise: loud banging, rumbling or knocking are typical signs that your water heater is ready to be repaired or replaced.
Ready to find a plumbing company you can trust? Find out more about us.
Benefits of Professional Drain Cleaning Services
When is the last time you had a professional clean your drains? Many people who fail to invest in preventive maintenance end up with severely clogged pipes that need to be replaced or repaired. If you're experiencing gurgling toilets, slow drains and other drainage issues, consider the benefits of hiring a professional drain cleaning service.
Improves draining systems
Saves time and money
Safety
Professional solutions
Long term effectiveness
Reduce blockages
Limits bad odors
Keeps your home healthy