As a full-service plumbing company, Valley Plumbing and Drain Cleaning is proud to offer plumbing services to homeowners and residents in Riverdale, UT. We are a team of well trained and highly competent professionals who look forward to continuing our reputation for quality work, friendly service and customer satisfaction. We take pride in the quality of our work and are always happy to put our skills to work for you.
Some of our services include:
Hot water heater repair
Water heater maintenance
Hot water tank replacement
Clogged drain repair
Emergency plumbing repair
And more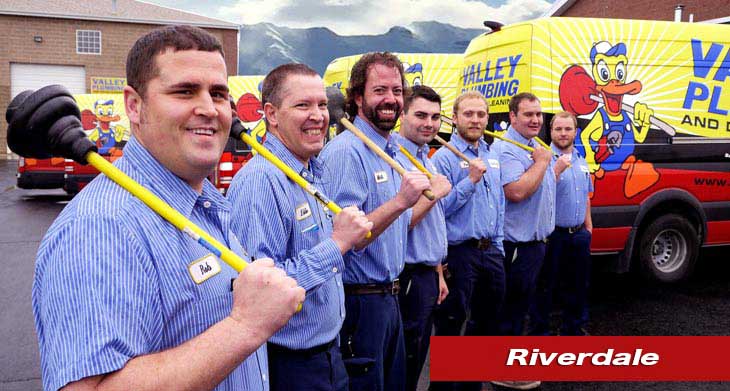 Check out our customer reviews and testimonials and find out what our customers are saying.
Emergency Plumbing Services
Plumbing emergencies often happen when you least expect them. If your hot water heater starts leaking or a pipe bursts, don't delay hiring an emergency plumber to assist you. At Valley Plumbing and Drain Cleaning, we offer emergency plumbing services in Riverdale, UT. When you reach out to us with your plumbing emergency, our 24 hour plumber will arrive on time and make repairs as quickly as possible.
When Is It Time to Replace Your Water Heater?
Here are typical signs that it's time to replace your water heater:
Age: Most often, when your water heater is around ten years old, its time to start watching it closely. Check the unit's age (usually on the rating plate or on the big sticker with the unit's details) as it could be due for replacement.
Rusty water: If you have hot rusty water coming from your faucets, this could indicate a problem with the water heater tank and you should have it replaced.
Noise: loud banging, rumbling or knocking are typical signs that your water heater is ready to be repaired or replaced.
Ready to find a plumbing company you can trust? Find out more about us.
Benefits of Professional Drain Cleaning Services
When is the last time you had a professional clean your drains? Many people who fail to invest in preventive maintenance end up with severely clogged pipes that need to be replaced or repaired. If you're experiencing gurgling toilets, slow drains and other drainage issues, consider the benefits of hiring a professional drain cleaning service.
Improves draining systems
Saves time and money
Safety
Professional solutions
Long term effectiveness
Reduce blockages
Limits bad odors
Keeps your home healthy
Local Reviews
for Riverdale, UT
Valley Plumbing and Drain Cleaning
Rated
5.0
out of 5 stars based on
1
customer reviews
Powered by Nearby Now
---
Great service
Yolanda

-

Riverdale

,

UT

84405



Review of
Valley Plumbing and Drain Cleaning
Was professional and clean floor and cupboard after fixing clog drains.
---
hartjeremy0322@gmail.com
I will install a new faucet and garbage disposal ion the kitchen. I will take out the old ones and throw them away. There will be a one year warranty on the work done
Near

W 4150 S,

Riverdale

,

UT

84405
Rhett J.
When I first arrived Yolanda brought me in and showed me the mast bathroom sink was completely backed up. And she should me The guest bathroom upstairs was running slowly as well. I then went through her and her son and talked about what the different options are. we then decided that it would be best to auger out both drains. This estimate is for us to drain clean 75 feet of the drain line and bathtub drain after done we will make sure its running with no leaks. I then was able to cable the full 75 feet into the line there were a couple rough spots but I was able to get through and clear the line. I then came back and the cable had sludge on it. and then put together the P-trap with new parts and then ran the fixture about 5 to 8 minutes long while filling the sink halfway full and letting it drain and it was draining much faster. I then went over to the gas bathroom with the tub drain and I was able to cable in about 5 feet and came back with a little bit of hair. I then ran in the
Near

S 575 W,

Riverdale

,

UT

84405
Zachary D.
Upon arrival I noticed an error code six on the water heater. I have a part shipping to the home owner. once the part gets to the home owner I will remove and dispose of the old control valve and burner assembly. I will install the new control valve and burner assembly. When finished I will test for proper operation. We came back on August 12 after customer receives parts we then went over the price and then started on changing out the burner assembly and gas control valve. We then started by draining out the water heater as it was draining I then pulled out and replaced burner assembly. I then replaced with most of the water drained out the gas control vale. After that I turned on the water heater and it started right up. Looks like its working fine. We will wait 30 mins before leaving just to make sure its working fine.
Near

4200 S,

Riverdale

,

UT

84405
Justin W.
The water heater was giving an error code 6 indicating that the burner needed to be replaced. We turned the water heater off and back on and proper function was restored. We called AO Smith tech support and were instructed to flush and empty the water heater, refill the tank, and relight the water heater. If problems persist, AO Smith recommends replacing the burner assembly and the gas control valve.
Near

4200 S,

Riverdale

,

UT

84405
Eddie D.
Manager showed us the yard hydrant in question and it is working just fine. Diagnostic of faucet not working per spencer.
Near

Riverdale Rd,

Riverdale

,

UT

84405