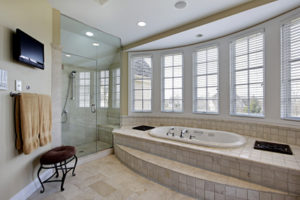 When it comes to upgrading your bathroom, there are many reasons that it is a good idea for you to do exactly that. For example, you can add value to your home and increase the amount of equity in the home, meaning that you should get more for it if you ever decide to sell it. Second, you can remodel your bathroom with important safety upgrades. Finally, you can increase the efficiency of the home by making a few small changes that will save you money each month on your energy costs.
Added Value
Many people decide to remodel the bathroom because they want to add value to the home. If you have a bathroom that is outdated, you can dramatically alter the value of your home by simply remodeling the bathroom, even if you do not remodel any other room in the house. Simply upgrading the fixtures and including new lights and faucets can go a long way toward increasing the value of your home. If you want to make major renovations, you can remodel the tub and shower areas and install new sinks and countertops in conjunction with new tile or a fresh coat of paint.
Safety
If you are worried about safety upgrades, you can upgrade a dangerous tub and shower combination and make it easier to get in and out of. You can also add upgrades to make the shower slip resistant. You can even add separate electrical outlets and create additional space in order to ensure that hair dryers and other electronics are nowhere near sinks, tubs or any other source of water. It is also a good idea to make sure that all of electrical outlets in the bathroom are grounded in order to further increase the level of safety.
Efficiency
Finally, upgrading a bathroom can increase your home's efficiency and reduce the amount of money that you have to spend every month on your heating and cooling costs. This can be accomplished by making some relatively minor renovations that have huge dividends. For example, if you change the type of light bulbs that you are using in the bathroom and switch to something that is more energy efficient, you could see a big difference in your next energy bill. By the same token, you can install specialized shower heads and faucets that help you regulate the amount of water that is used.
Making these upgrades to your home will make your home more beautiful, safer and it will save you money. When you consider all of these things, there is simply no reason not to renovate your bathroom and enjoy your home more than ever.
Looking to remodel the bathroom in your Salt Lake City home? Call Valley Plumbing and Drain Cleaning at (801) 341-4222 and let us make your vision a reality!