When you are trying to complete a repair of your sewer line, you may have heard of the trenchless technique. However, these techniques are meant only for trained plumbing professionals. When you call on a professional to get the job done, they will be able to handle it on a firm timeline and for a good price. Follow the plumber's lead while you observe how hard it would be to do on your own.
Renting The Equipment
Most plumbers that need to dig these small holes will rent or already own their equipment. This equipment is very expensive, and you will not have much use for it when you are done with the job. However, a plumber will save you money because they are able to use this gear often. Also, the plumber knows how to use this equipment. In many cases, they have been to special training classes for the gear, and they will be able to use it without any problem at all.
Speed
When you are working on this job alone, you can never know how long it will take to complete. The plumber will know exactly how long the job takes. Most plumbers can have these jobs done in just a few hours, and they will leave your home just as they found it. You must make sure you are working with a professional plumber so that they can get the work done quickly. This saves you time and money in the long run.
The Liability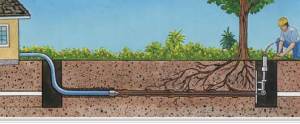 Plumbers have insurance to cover themselves when they are on the job. You have no such insurance, and you could end up losing a lot of money if you are hurt while trying to do the repair yourself. Trusting the plumber is much safer for everybody involved in the job.
When you are working on a sewer line repair, you should trust a plumber with your home. They can make the sewer line repair happen quickly, and they will do the job safely. They bring their own equipment, and they are insured against anything that might happen during the job.
Trenchless Sewer Repair is a job for experts. If you're looking for reliable services in the Salt Lake City area, call Valley Plumbing at (801) 341-4222 today.