As the mercury rises, you may start to think your water-conserving practices are no longer needed. It may seem like as good of a time than ever to make a few exceptions and use up your precious water to cool down.
But, what if we told you that you can still enjoy outdoor summer activities while also conserving water at the same time?
Here are our top five favorite water-saving outdoor summer fun activities:
Running Through the Sprinkler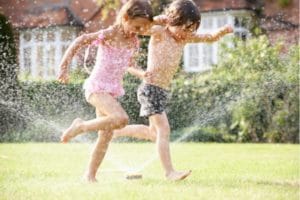 Nothing says "summer" like running through the sprinkler! This easy and effortless activity requires little doing on your part and results in major fun and memories made for your kids.
Put your sprinkler's time when your family can enjoy it too and get double the use out of the sprinkler. You'll be irrigating your lawn while cooling down the family at the same time.
Get Creative with PVC Piping
After making sure your hose is in good working conditioner, head to the hardware store and pick up some PVC piping. You can drill tiny holes into the piping and connect it to the hose in any configuration you can think of.
Either running the pipe on the ground or creating an outdoor PCV cube, the possibilities are endless. Your kids will be blown away by their own personal splash pad.
Do the Limbo
We know the limbo as a fun party activity with a long stick and some funky tunes, but what if the limbo stick was made from a stream of water instead?
Use the hose to create a dynamic limbo stick that your kids will want to touch! Blast some fun music and watch the limbo evolve into a fit of hose spraying, laughing, and fun for all.
War of the Sponges
Water fights are another fun outdoor activity, but water balloons are wasteful since you can only use them once. A better alternative is a sponge fight! Distribute colorful sponges to family members and place buckets of water around your property for refills and let the war of the sponges begin.
Another use for water sponges is a minute-to-win-it style game where participants are required to move water from one full bucket to another empty bucket using only a sponge. You're sure to cool down as you soak up water and try to transfer it to the other bucket without spilling.
DIY Slip and Slide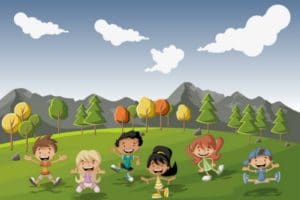 Slip and slides are endless fun in the summer. Did you know you can make your own version of a slip and slide using materials you probably already have at home?
For the slippery surface, try using a painter's tarp or a few heavy-duty garbage bags taped together.
Once you've placed the surface in a location without any rocks or sharp edges, simply squirt a small amount of dish soap and add a few buckets of water for an amazing DIY slip and slide!