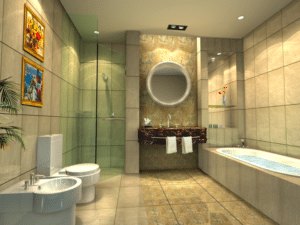 Remodeling a bathroom
is a big project, and it is the perfect way to make upgrades to your room's style and ambiance. With a closer inspection of the features in your bathroom, you will find that many of them are plumbing features. Because of this, you will likely need to work with a professional plumber as you complete your home's bathroom remodeling project.
Upgrading Ideas for Your Bathtub
Your room's bathtub may have been installed originally when your home was built. It may lack luster and style, and it may also be too small for your needs. If space permits in your room, you can replace the outdated and small tub with a stylish new tub that is larger in size.
It may be installed by your plumber against the wall, such as with a jetted tub. It may also be a standalone tub that is a focal point of your room, such as a claw foot tub. Your plumber may assist you in running new plumbing to the desired location for your bathtub.
Replacing Your Shower
Just as your bathtub may be outdated and not stylish, your shower may have similar characteristics. Some showers are part of a combination shower bathtub unit. Separating these into separate units is a smart idea to add luxury and functionality to your space if you have enough square footage to do so.
Your plumber can assist you with separating the pipes and running them as needed. Installing multiple shower heads or spray jets to the shower can also add luxury. Consider other features, like bench seating and a mudset or walk-through style for your shower for an additional improvement. Your plumber can assist you with each of these ideas.
Remembering the Toilet
It is easy to overlook the toilet, but your bathroom remodeling project would not be complete without making an upgrade to this feature as well. There are different ways to add luxury to your toilet. A larger toilet with a taller presence and a larger bowl and seat can make the space look more grand. Enclosing the toilet with a water closet feature is a smart idea. Using advanced flush technology can also improve the function and can help you to save money with each flush. Your plumber may be able to advice you on a way to improve the toilet area in your home's bathroom.When you are ready to upgrade your bathroom, a smart idea is to make a few luxurious upgrades. Each of these ideas can help you to instill luxury, and your plumber can help you with them.
Let our team help you design the bathroom of your dreams. Call Valley Plumbing at 801-341-4222 for exceptional service in the Salt Lake City area.