Choosing to remodel your kitchen or bathroom is a big step financially, and mentally. You've dreamed of this for years, but deciding to follow through with the decision can be hard.
With the right plumber, renovating your bathroom or kitchen can be an enjoyable experience!
There are plenty of considerations when remodeling these major spaces, especially if it's your first experience with renovations.
Design, plan, and implement the changes necessary to get the kitchen or bathroom of your dreams by following these reliable tips:
Hiring the Right Plumbing Professional
When you're researching a plumbing contractor to undertake your kitchen or bathroom renovation, perform the following checks:
Make sure they are fully certified and trained to work as a licensed plumber.
Review their website for testimonials, reviews, or a portfolio of past projects, to see if their skills align with the results you expect.
Inquire with friends or family to see if they have experience with a particular plumber.
You should never feel pressured or rushed into making a decision regarding hiring a plumber.
Take your time, and find a professional who can envision your wishes, and deliver you the kitchen or bathroom of your dreams.
Plan the Remodel In Advance
Before taking on a renovation project, whether you plan to do the work alone or with a contractor, you must do your research. Especially before any financial decisions are made.
By planning ahead, you'll be able to save time during the process, and perhaps even some money. Use the following tips during the planning process, and save yourself a future headache:
Discover your exact plumbing needs ahead of time. Regardless of whether you're renovating a bathroom or kitchen, find out your existing plumbing system layout to the best of your abilities.
Review your home's blueprints if you have them. Remember, a plumber cannot see through walls, but can simply use their existing knowledge and experience to determine how your plumbing system works.
Stick to your original plans after you've begun. Choosing to change plans once a renovation is underway can be costly, and perhaps even unachievable.
Consider any upgrades before you start. This step is dependent on whether you're upgrading large fixtures.
For example, if you're adding a large jetted tub to your bathroom, you may need to also install a larger water heater capable of delivering more hot water.
When calculating your renovation project costs, reserve 10% of the end total for emergency funds.
Considerations for Plumbing and Fixture Updates
When you're purchasing new fixtures for your kitchen or bathroom renovation, try to invest in quality fixtures where you can.
Most of the time, high-quality fixtures are also eco-friendly and perform more efficiently than cheaper counterparts.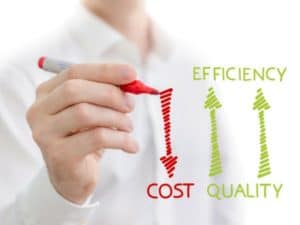 If your renovation involves exposing pipes, have a plumbing professional give them a "check-up."
An expert will be able to locate any weak spots or damaged areas and replace them before the walls or new fixtures are installed.