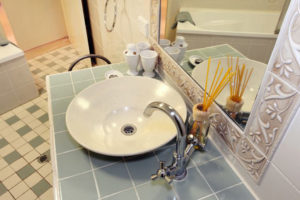 Bathroom Home Remodel
Many American homeowners are intimidated by home remodel, particularly one's bathroom. However, in the big scheme of things remodeling one's bathroom is not that complicated given the wide variety of materials readily available for the American consumer and the many sources that can be accessed online, through mailed brochures and pamphlets, or in person.
The key with respect to any bathroom remodel is to ascertain the square footage of the room and then begin the re-design of the area. Such is typically done through the assistance of a computer program but this can easily be accomplished the old-fashioned way with tracing paper and pencil.
Factors to Consider in a Bathroom Remodel
The most important factor for any homeowner in remodeling his or her bathroom is the location of water pipes for a shower, bath tub, and sink. The location of water pipes in the room to be remodeled will determine whether the piping remains as configured or will need to be repositioned if the shower, bathtub, or sink(s) will be repositioned.
Most American bathrooms provide views of the outdoors from the bathtub position with tile to prevent moisture intrusion into the subfloor. Bathtubs come in a wide variety of lengths and widths for the consumer. Tile comes in a myriad of patterns, colors, and styles as well.
In selecting the cabinets for the bathroom, hardwoods and hardwood veneers in a variety of woods are typically used due to their ability to prevent water intrusion and resulting damage.
Selection of the shower is it a pre-fabricated unit or custom-built tiled inlaid with or without benches are typical in the modern American bathroom with added features such as "wash jets" and a "steamer" to have your own wet steam in the privacy of one's home.
Costs of a Bathroom Remodel
Studies have shown that the costs of remodeling one's bathroom typically appreciate the property's value well in excess of the costs of the remodel. As a result, the remodeling of one's bathroom not only gives the homeowner a room that he or she can enjoy for years to come but also adds value to the property usually in excess of the costs of the bathroom remodel.
Ready to improve the looks of your Salt Lake City home's bathroom? Call Valley Plumbing at (801) 418-9283 for bathroom remodeling.