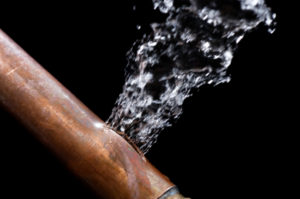 Emergencies have a tendency to arise out of the blue and with no warning whatsoever. Plumbing emergencies are sometimes like that. You may have not taken heed of signs that a leak was present or the drain had a clog. Now, a major plumbing disaster has occurred in your home. What can you do during this emergency situation?
The first bit of advice that can be offered during a plumbing emergency is to avoid panicking. That might sound like very basic advice, but the truth is most people are going to panic when water is flowing uncontrollably in the home. What you have to understand here is no matter what occurs, panicking is not going to fix the problem. In all honesty, panicking is going to delay you in taking the right steps to deal with the issue. The first thing you need to do, if there is a leak, is to shut off the water. This way, no further water flows through the pipes. In turn, this means no more water is going to find its way into your interior.
If the problem is a backup or another issue that cannot be fixed by shutting off the water, you want to clear as much of your belongings out of the way of the flooding water. Anything that can be damaged or ruined by water should be moved, if possible. Be on the lookout for electrical hazards though. Do not try to take any risks when your safety is threatened.
As soon as possible, call a plumber. There are plumbing companies capable of responding to an emergency and doing so quickly. Even at strange hours of the evening, they might be able to respond. Without a doubt, the most important thing to do during a plumbing emergency is to have a professional come to your residence and fix things. Doing so will get the emergency under control.
Call Valley Plumbing and Drain Cleaning today at (801) 487-4770 if you're having a plumbing emergency in Salt Lake City. We have immediate solutions for your situation!