The Best Plumbing Costumes All Around!
If you are looking for a few chuckles this Halloween from your one of a kind costume, then look no further than the plumbing industry. Plumbers and their common idiosyncrasies are the perfect places to look if your goal is to have your audience rolling with laughter.
More often than not, these costumes are simple to put together and extremely unique, making them a top choice for just about anyone. Read on to get some inspiration for your Halloween ensemble.
Think Toilet
When Sir John Harington designed the first flushing toilet in 1596, chances are he did not have jokes in mind. It would be interesting to speculate on whether he would appreciate the millions of humorous jokes and situations the toilet has given us over the years, though.
Toilet jokes may be funny, but toilet costumes are really where the comedy lies. A full-grown man dressed like a porcelain throne is amusing, but there is a more comical option. The kids! This is also an opportunity to multi-task as there is nothing wrong with exacting a little tantrum revenge.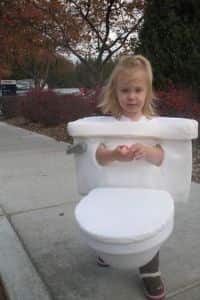 In this particular case, a little girl dressed as a toilet is a good old fashioned knee slapper. If her father's name happens to be John, well what a better way for her to dress like her dad on Halloween. As you can tell, she is excited by the prospect.
Babies Make The Best Plumbers
Halloween is mostly a kid's holiday, but that does not stop the throngs of adults from joining in the fun. If Halloween hilarity is a family affair, don't forget to include the babies in costume planning. There is nothing funnier or cuter, to be honest than a baby plumber.
While babies and toddlers have not mastered the art of trick or treating, they have cornered the market on looking cute and humorous. They also have the added bonus of being dressed up while not having to move from their favorite location.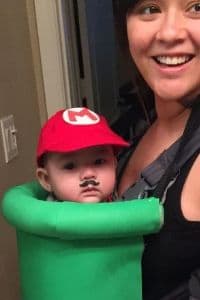 An adorable example of a plumber costume perfect for those under 2ft tall is Mario. Not only does this Mario tyke make you want to chuckle, but he can be toted around hands-free thanks to Mario's favorite getaway trick. It's obvious from the picture that this Mario takes his role seriously.
Channel The Famous Plumber Mario
As Mario tyke pointed out, Mario is a great way to go when contemplating plumber costumes. As the most famous of all plumbers, and a video game hero to boot, you can not go wrong with this particular idol.
The trick for the treat with this one is to make it as funny as possible. Mario's celebrity status has made it so that his likeness has been done many times. Bringing in a Mario co-star can help take your costume from ordinary to a side-splitting spectacle.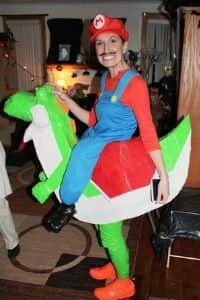 Yoshi is one of the better candidates as there are so many options available. The best has to be the "Mario rides on Yoshi's back" version. Not only can you work up some fancy footwork to keep everyone laughing, but the basic costume alone is a riot.
Have Your Pets Join The Fun
Bringing it back to the cuteness of it all, there is nothing more likely to get you bursts of laughter than by remembering to include the family pet. It's important to remember that the best creature to dress up in a costume is a dog. While you can attempt to dress your cat as a plunger, or your hamster as a roll of toilet paper, extreme caution is recommended.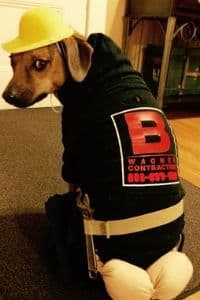 If you choose to go with the family dog, however, the hilarious possibilities are endless. This is especially true if you can work in a human trait or two. One of the best things about dogs in costumes is their low thresh hold for embarrassment.
Take the example above; this plumbing pooch comes complete with a hard hat, tool belt, and a very distinct human plumber feature that is hard not to laugh at. The one drawback is you may have to explain to your furry friend that plumbing costumes don't mean toilet drinks are okay.
When In Doubt, Look To Santa
A great way to liven up any plumber costume is by putting it on someone who wouldn't normally wear it. A perfect example of this is Santa. Watching Santa carry around a plunger while wearing a tool belt and hard hat is enough to make anyone snicker.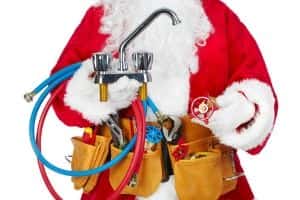 This is also a great option for anyone looking to be a little more conservative on their Halloween plumber costume costs. If you already have a Santa suit, you can modify it. If you don't, chances are very good that you will think of another use for it in a month or two.
Valley Plumbing and Drain Cleaning
Valley Plumbing and Drain Cleaning is a trusted member of the Salt Lake City UT community. They are well versed in the latest industry technology and are dedicated to prioritizing their customer's safety and comfort. Valley Plumbing and Drain Cleaning is available 24/7 and can be spotted as the ones with the Truck with the Duck.