Salt Lake City Plumbing, Water Heater & Drain Cleaning Services
Do you need a reliable and trustworthy plumber in Salt Lake City, UT? Look no further than to the professional team at Valley Plumbing and Drain Cleaning. Call 801-341-4222 for assistance available 24/7 with no service charge. Get instant access to our online specials and coupons and save on your next home project.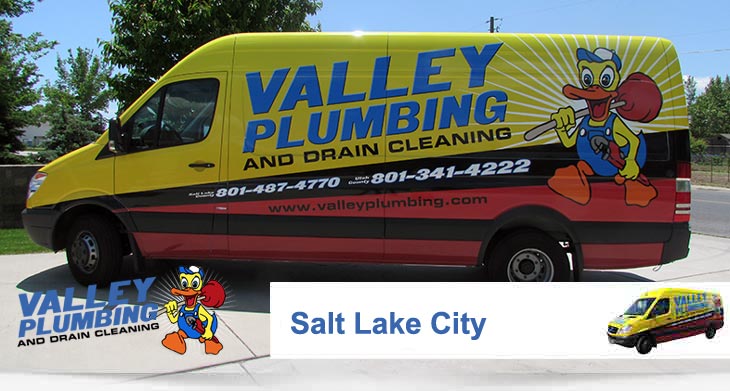 No one likes to deal with a plumbing problem. From clogged drains and toilets to a broken water heater, plumbing complications are not only inconvenient, but bothersome. For years, customers have trusted Valley Plumbing and Drain Cleaning for all their plumbing needs.
We pride ourselves in putting the customer first. We never recommend work that isn't necessary and we charge a fair price. You do not have to worry about a mess when we leave because we respect your home and will never leave muddy footprints behind. Count on our team of trained and experienced plumbers for all your Salt Lake City, UT plumbing, water heater, and drain cleaning services. A service job is not complete until you're 100% satisfied.
Check out our reviews and see why so many homeowners in Salt Lake City, UT choose us for all of their home services.
Why Are Water Leak Detection Services Beneficial?
Homeowners are often not aware just how damaging even the smallest water leak can be. Scheduling water leak detection services can alleviate any problems in your pipes and prevent future issues. Consider some of these benefits:
Save money. That hidden leak in your home could be costing you quite a bit of money, shown in your water bill.
Catch the leak quickly. Unfortunately, many homeowners assume that a small leak will be hard to find, so they never even try. However, with our superior equipment and experience, we can generally find the leak quickly.
Mold prevention. A small leak can end up costing you thousands in mold removal.
Prevent bigger problems. A water leak does not go away on its own. It can, however, get bigger or eventually flood your home.
What Are Signs You Need Professional Drain Cleaning?
Far too many homeowners take their drains for granted. They never think about them until a problem develops. Unfortunately, sometimes the problem isn't just a clogged sink, but rather a major sewer line backup. By getting timely service, you can avoid a major catastrophe. Call us right away if you ever notice any of the following:
Multiple drains backed up in your home.
Drains backed up on various floors in your home.
Gurgling or backed up drains after another is used.
Sewer smell coming up from a drain.
Frequent clogs or a slow drain in your sink, toilet or shower
Does Your Water Heater Need Repairs or Replacement?
Often times, it is not always apparent that your water heater is due for repairs or replacement. Is it important to be a proactive homeowner and regularly check and inspect your unit for any sign of trouble. If you ever notice any of the following signs, call our professional team. We will be glad to investigate your water heater and provide you with the best course of action.
Brown and/or smelly water.
Running out of hot water quickly.
Water that doesn't doesn't get hot enough.
Water pooling around the water heater.
Rust on the water heater tank.
All of these are signs that your water heater needs to be serviced. Eventually, it makes more sense financially to replace rather than service a water heater. Our staff will be happy to counsel you if you water heater is at that point or not.

Don't let plumbing issues wreak havoc on your life. Valley Plumbing and Drain Cleaning is here to help. Call 801-341-4222 anytime 24/7 for immediate relief in Salt Lake City, UT.