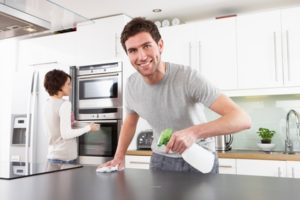 Quite possibly the most vital room in a home is the kitchen. Food is prepared, people gather together here, and often children tackle their homework in this room so you want it to be comfortable, visually appealing yet functional. Remodeling a kitchen can improve the look of your home and increase its value. A kitchen design is quite involved as it unites electricity, flooring, plumbing, and more, so it can be quite a complex room to remodel. Due to the necessity of water in a kitchen, it is wise to use a professional plumber to ensure the remodeling process goes smoothly and remains within your budget.
Why Do I Need a Plumber For This Job?
You will witness several issues as you initiate a kitchen remodel so having the expertise of a plumber close by will definitely ease your nerves. This professional will prevent the inexperienced homeowner from making errors in a demolition activity or repairs which will simply cost more time and money. Creating waterlines for a new dishwasher, comprehending building codes, choosing the best locations for a drain and sink, and installing an island sink are not simple tasks that can be accomplished unless one happens to be an experienced, licensed plumber.
What Are The Benefits?
A professional plumber is highly skilled in increasing, connecting, and modifying the water lines and pipes in a home. A plumber will devise the best design strategy for the existing kitchen plumbing layout in the event that the homeowner decides that the sink should be placed in a different location in the room. One must also consider that if your kitchen has not been remodeled for a good number of years, some of the water pipes may require replacement or repairs prior to any construction of new cabinets or countertops. A plumber will know exactly how to make these changes in a professional and timely fashion.
Be aware that remodeling a kitchen will often cause plumbing lines to be rerouted and fixtures to be installed. Additionally, new garbage disposals, dishwashers, and drains will need connections as well as a gas line connection if a new stove will be powered by gas. For any kitchen remodel, the process must be treated with much care. Remember that a kitchen is a vital part of a home and there is no one more capable than a professional plumber to accomplish this.

Are you looking to turn your Salt Lake City kitchen into an exquisite space for culinary creations? Call Valley Plumbing and Drain Cleaning at (801) 341-4222 for the plumbing help you need to make this dream come true.